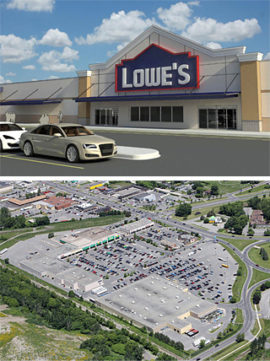 Lowe's to Establish New Store in Cornwall
September 30, 2015
Cornwall Ontario – As part of its Canadian growth strategy, Lowe's Canada announced that it will open a new store in Cornwall, Ontario.
The new home improvement store, slated to open mid-year 2016, will offer more than 40,000 in-stock products to help customers build, improve and beautify their homes.
"We are excited to have this unique opportunity to join the Cornwall community and bring Lowe's closer to our customers in Eastern Ontario," said Sylvain Prud'homme, President, Lowe's Canada. "This new store will allow us to become part of an established and active shopping hub, and supports our ongoing strategy to be the home improvement choice for Canadians. We are thrilled to be expanding into Cornwall and see tremendous opportunity in this new market for us."
The new Cornwall Lowe's will have approximately 100,000 square feet of retail sales space, with an adjacent garden centre of approximately 13,000 square feet. The store will create 120 to 140 jobs with an additional 30 to 40 seasonal positions.
"On behalf of the City Council, I would like to congratulate Lowe's on the decision to invest in Cornwall," said Mayor Leslie O'Shaughnessy. "Cornwall is a growing market and one that is becoming increasingly popular with retailers and we wish Lowe's the best in servicing the needs of the regional population."
The store will be located in the Brookdale Centre shopping plaza at the corner of 7th Avenue and Brookdale. The popular shopping destination is already home to several retailers, including Food Basics, LCBO, Reitman's, Scotiabank, Tim Horton's, Scores and Kelsey's.
Conversion of the retail space into a Lowe's store will commence this week.
In July 2015, Lowe's announced plans to open 14 new stores in Canada bringing its total store count to 54 locations. Last month, the company opened its 40th store in Saskatoon with its next locations set to open in Ancaster and Mississauga in early 2016. The Cornwall store will represent Lowe's 55th location in Canada and become the company's 38th store in Ontario.
About Lowe's
Lowe's Companies, Inc. (NYSE: LOW) is a FORTUNE® 50 home improvement company serving approximately 16 million customers a week in the United States, Canada and Mexico through its stores and online. With fiscal year 2014 sales of $56.2 billion, Lowe's has more than 1,845 home improvement and hardware stores and 265,000 employees. In Canada, Lowe's opened its first stores in December 2007 and now operates 40 stores in Ontario, Alberta, Saskatchewan and British Columbia with more than 6,000 employees.
For more information, visit Lowes.ca.