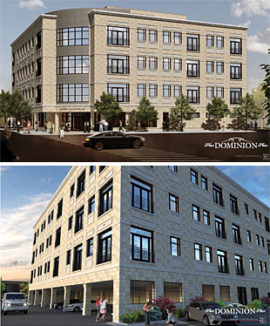 Luxury Condos Planned for Pitt and Second
July 29, 2013
Cornwall, Ontario – The final piece of one of Cornwall's most iconic intersections will soon be in place, following the unveiling of plans for luxury condos at Pitt and Second Street.
Designed with professional or active retired couples in mind, Dominion Place at One Second Street East downtown will combine location, convenience, luxury and comfort in a new class of real estate previously not available in Cornwall.
"It's about maintaining a lifestyle," commented Ron Chenier, President.
The new four-storey building, designed in a modern style with classical elements that will complement the most noteworthy historic buildings in the area, will feature a stone facade with large bright windows, a curved corner facing the intersection of Pitt and Second Streets and several other architectural highlights.
"For people now living in larger homes, moving into a small condo can be a challenge," commented Dick Markell, also a partner in the project. Suites in Dominion place  will provide generous living space as well as exclusive parking, storage and outdoor space – and the ability to simply walk out of the lobby for an evening of fine dining, a bit of shopping, or a walk along the waterfront."
The spacious suites, ranging from 2,379 to 2,551 sq. ft. will be available in several layouts that can be further customized to reflect the personal taste and lifestyle of each owner.
"We approached the design of Dominion Place with the knowledge that the new building will immediately become a landmark, a cornerstone in the successful redevelopment of Cornwall's downtown and waterfront," added Chenier. "We wanted to make a positive contribution to the ongoing revitalization of downtown, not just as a shopping and dining district, but as one of preferred residential areas of the city."
Refined Living Amenities
Individual suites will feature elegant quality finishes, including these features:
ceiling heights up to 10 feet
large custom-design kitchens
two gas fireplaces
individual high-efficiency heating and cooling systems
two bedrooms
two-and-a-half baths
All residents will enjoy a number of common amenities:
Roof Top Terrace / BBQ area with outstanding views of the St. Lawrence River and the Adirondacks
Two meeting rooms for friend and family gatherings
Dedicated onsite parking (two per suite)
Spacious exercise facility
Large secured additional storage (one for each condo owner)
Handicap accessibility / barrier free access (in all suites and throughout the building)
Elegant main lobby and common areas will add to the suites and outdoor spaces to provide a truly luxurious, maintenance-free living experience.
Dominion Place is a rare investment opportunity with only 13 suites available (2 are already sold). Limited professional office space is also still available on the main floor along Pitt and Second Street. The project is now out to tender with final pricing expected in August. Based on successful pre-sales, occupancy is expected late 2014 or early 2015.
Plans and renderings can be viewed at www.dominionplace.ca