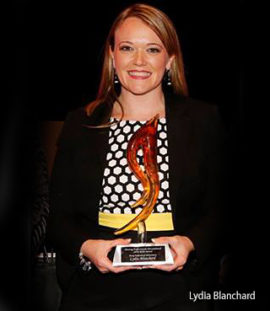 Lydia Blanchard Named Young Professional of the Year
June 17, 2016
Cornwall Ontario – In her job as business development sales manager for NAV Centre, Lydia Blanchard is no stranger to bringing international recognition to Cornwall. It was a pleasant surprise, however , to see that recognition reflected.
Ms. Blanchard was named Young Professional of the Year by Meetings Professionals International at a recent gala luncheon at the World Education Congress in Atlantic City, New Jersey.
"I am very grateful and honoured for the recognition," says Ms. Blanchard. "MPI has changed my world in so many wonderful ways and I very fortunate to be able to give back to the community."
With the award, MPI acknowledged the tremendous contributions Ms. Blanchard has made to the meeting and event industry since joining the MPI Ottawa Chapter four years ago. She has volunteered on the Community Outreach Committee and Marketing & Publications Committee earning her volunteer of the year honours in 2014. She currently serves MPI Ottawa as the director of publications.
"Lydia has boundless energy and is a positive force when promoting Cornwall," says Lorne Taillon, Leisure Arts Coordinator with the City of Cornwall. "I have had the pleasure of working with her as we pitched the city as a location for national and provincial sporting events."
Ms. Blanchard has been successful in bringing conventions and sporting events to the NAV CENTRE, a full service conference centre located on the scenic shores of the St. Lawrence River in Cornwall. The NAV CENTRE offers access to 551 guest rooms and 70 dedicated state-of-the-art meeting rooms, spa, fitness centre with indoor pool and an Irish pub with live entertainment. The Centre can accommodate small groups of five to large groups of up to 500.
Ms. Blanchard is also one of the driving forces behind the Cornwall Chamber of Commerce Young Professionals initiative and is is actively involved in other industry-related organizations such as CSAE Ottawa-Gatineau, PCMA Canada East, Women's Executive Network Ottawa, Religious Conference Management Association, Canadian Sport Tourism Alliance and Festivals and Events Ontario.
About Meeting Professionals International
Meeting Professionals International (MPI), the meeting and event industry's most vibrant global community, helps its members thrive by providing human connections to knowledge and ideas, relationships, and marketplaces. MPI membership is comprised of more than 24,000 members belonging to 71 chapters and clubs worldwide.
The Ottawa Chapter of MPI is the largest organization of conference planners and suppliers in Canada's National Capital Region, with more than 300 members in Ottawa and Gatineau.
The RISE (Recognizing Industry Success and Excellence) Awards are given in three categories: individual achievement, community achievement and organization achievement. Recipients are recognized for innovation, global transferability, impact and influence within the industry.
Categorised in: Business