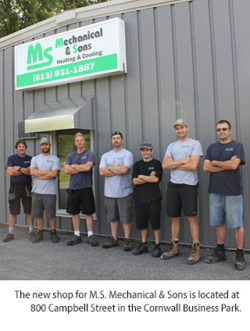 M.S. Mechanical & Sons Establish New Shop in the Cornwall Business Park
December 6, 2017
Cornwall Ontario – M.S. Mechanical & Sons are celebrating their silver anniversary in style – with a new location in the Cornwall Business Park.
The company has purchased and renovated a 3200 sf building located at the corner of Campbell and Copeland.
"The new building provides us with more space to service our customers, and makes our entire operation more efficient," says Mike Scheffer, who owns the company along with his wife Judy.  "Cornwall is where the majority of our customers are located and the Cornwall Business Park offers a strategic location that will allow us to grow the company."
M.S. Mechanical & Sons is a heating /cooling ventilation company, servicing residential and commercial properties.  Staff make and install duct work, natural gas piping as well as natural gas, propane, oil, electric, heating systems and air conditioners.
"We are one of the few mechanical businesses that manufacture our own duct work under our own roof," says Mr. Scheffer.  "We have no need to sub out any part of the project."
M.S. Mechanical & Sons was started in the Scheffer home garage in South Glengarry in 1992.
"When we started the business our three boys were under 6 years old," recalls Mr. Scheffer. "My wife added the '& Sons' as a joke. Little did we know that the two oldest boys would go into the trade and work side by side with me. All five of our children, 4 boys and 1 girl, have worked for our company throughout the years."
M.S. Mechanical & Sons has established a school bursary at two local high schools, Saint Lawrence Secondary School and Holy Trinity Catholic Secondary School. The bursaries are to support a graduating student entering a trade.
M.S. Mechanical & Sons is located at 800 Campbell Street and is open Monday to Friday, 8:00 am to 4:00 pm with weekend emergency on call. They can be reached at 613 931-1887 or online at:
Categorised in: Business