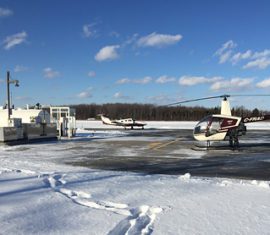 Major Upgrade to Fuel System at Cornwall Regional Airport
December 19, 2016
Cornwall Ontario – Cornwall Regional Airport is about to become a more popular landing choice for pilots.
The Airport Commission has completed a major upgrade to its fuel system and can now offer Jet A fuel as well as 100LL avgas, 24 hours a day, 7 days a week.
"The sale of fuel is an important service and the new upgrades will mean that even more pilots can choose to fuel up at our airport," says Frank Prevost, Chair of the Airport Commission. "The proceeds from fuel sales help to pay for the operation and maintenance of the airport."
Jet A fuel is available for the first time following the installation of a 3500 gallon tank and fuel pump. A new chip and pin upgrade to the payment system means that pilots can fuel up at any time of the day or night.
Jet fuel is a type of aviation fuel designed for use in aircraft powered by gas-turbine engines. Avgas is used in spark-ignited engines common to many light aircraft.
The airport had been receiving requests for jet fuel for some time, sparking the decision to invest in the system upgrades, which cost approximately $140,000.
"The airport is used by a number of recreational, corporate and government users that includes law enforcement and medical flights," says Steve Small, Airport Manager. "The new fuel system will allow more planes to fuel up and we will be spreading that word to our customers."
Earlier this year, Ottawa Aviation Services began operating flight training operations out of the Cornwall Regional Airport.
Cornwall Aviation is also based at the airport.
About the Cornwall Regional Airport
Cornwall Regional Airport is located 7 nautical miles (13 km; 8.1 mi) northeast of Cornwall. The airport has a single 3,510 ft × 100 ft paved runway oriented east-west. The facilities include an airport commission hangar, general aviation lots and parking sites.
The airport is open year round and is designated as an Airport of Entry for customs services for up to 15-seat passenger aircrafts. The airport is operated by the Cornwall Regional Airport Commission, which is jointly funded by the City of Cornwall and Township of South Glengarry.
The above investment was included in the 2016 Year in Review report complied by Cornwall Economic Development.
Categorised in: Business