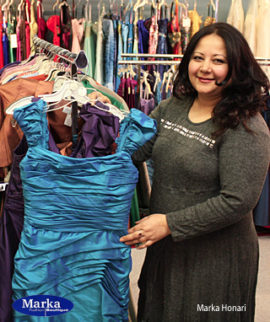 Marka Fashion Boutique Adds Flair To Le Village
February 20, 2015
Cornwall Ontario – Recognizing an opportunity has brought Marka Honari and her love for fashion and design to Cornwall. Honori recently saw a listing for retail space that she felt would be perfect for a fashion boutique.  Not one to procrastinate, in no time at all she had the boutique open, much to the delight of shoppers.
Located in Le Village in the former Roger's Paint Shop on Montreal Road, Marka Fashion Boutique offers ladies wear for all occasions – professional, graduation, prom, bridal, evening, etc.
"I love making women look and feel beautiful", said owner Marka Honari. "I truly love what I do, and I enjoy making connections and good client relationships.  The personal interaction is very important to me."
The boutique offers Cornwall residents a very wide selection. It is a "one-stop shop" with shoes, accessories and jewellery as well as alterations all available at the boutique. Ms. Honori herself attends fashion tradeshows in Montreal and Toronto to obtain quality pieces for her clients. With designers from Europe, Italy, and Turkey, the boutique offers a wide variety of different styles and looks.
A graduate of the Richard Robinson Fashion Design Academy, Ms. Honari has been a business owner for the past 14 years. Bringing her business to Cornwall provides her with the opportunity to work on her own line for women, starting with clothing for casual occasions. She also has an additional location in the Ottawa area, open by appointment only.
"My dream has always been to design my own line of clothing, but not having the opportunity to interact with clients was a challenge," she said.  "I want to connect with people and help them find what makes them happy and confident. Marka Fashion Boutique offers that, and provides me with the opportunity to create a line of clothing as well.  It is perfect for me."
Marka Fashion Boutique is open Tuesday to Friday from 10am to 6pm and Saturday from 10am to 5pm.
You can find them online:
Entrepreneurs in Action
Entrepreneurs in Action is an initiative by the Cornwall Business Enterprise Centre to profile small to medium-sized businesses that have recently opened in Cornwall, S.D.&G. and Akwesasne.
About the Cornwall Business Enterprise Centre
The Cornwall Business Enterprise Centre helps small business owners and entrepreneurs succeed in Cornwall, Stormont, Dundas, Glengarry & Akwesasne by offering information, tools and support during the start-up and growth stages of business operation. The Centre also offers seminars, workshops and networking opportunities that are designed with the entrepreneur in mind. Please visitwww.BusinessEnterpriseCentre.ca for more information.
The Cornwall Business Enterprise Centre is operated by Cornwall Economic Development in partnership with the Ontario Ministry of Economic Development, Trade and Employment.
Category: Business