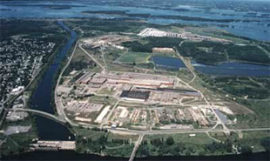 Massena's Alcoa Breaks Ground on Modernization Project
July 1, 2013
Cornwall Ontario – New York State Governor Andrew M. Cuomo recently announced an agreement between Alcoa and New York State that will lead to $600 million in improvements to the Alcoa East Aluminum facility in Massena New York, just south of Cornwall.
The project entails the modernization and upgrade of the facility, with the State committing to supply 478 megawatts of low-cost electricity. It will lead to the long-term retention of nearly 1,000 jobs.
"Today's groundbreaking is a major step forward for the modernization project of the Alcoa facility in Massena," Governor Cuomo said. "Alcoa is a world class company that is continuing to spur economic development and make investments in the community. Under this project, 1,000 jobs will be retained. New York State looks forward to building upon this partnership with Alcoa to grow the economy of the North Country region for years to come."
The 478 megawatts of low-cost hydropower is generated in Massena at New York Power Authority's (NYPA) St. Lawrence-FDR power plant. The NYPA-Alcoa hydropower contract, extends to 2045, and if certain conditions are met, Alcoa may exercise an option to extend service for 10 years beyond 2045.
Under the contract, which was entered into in 2009, Alcoa committed to protect nearly a thousand jobs at its Massena facilities and undertake capital investments of at least $600 million, of which $42 million is currently being spent on site preparation for a new aluminum production potline at the Massena East plant.
"Alcoa is pleased to work with the State of New York and the community to ensure that we remain an integral part of the North Country's economic development," said U.S. Primary Products President John D. Martin.
Alcoa was NYPA's first customer, having signed its original power supply contract in 1955, more than three years prior to the operation of the St. Lawrence-FDR plant—NYPA's first generating facility. The electricity supplied to the company's Massena smelters accounts for approximately 60 percent of the generating facility's total output.
About Alcoa Massena Operations
Massena Operations is the longest continually operating aluminum facility in the world. The Pittsburgh Reduction Company (Alcoa's forerunner) came to Massena In 1902 to take advantage of an abundant hydroelectric energy supply.
Today, Alcoa operates two facilities in Massena; an integrated aluminum smelting/ fabricating facility and smelting/casthouse facility.
Alcoa is the largest private employer north of Syracuse. Massena Operations employs approximately 1,400 persons.
Click here for a related article on trade between Cornwall and Massena.