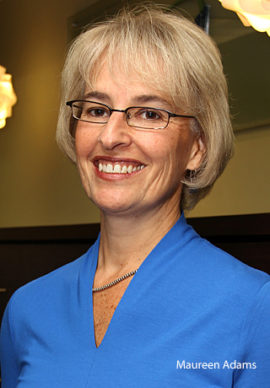 Maureen Adams to Speak at Team Cornwall AGM
May 26, 2016
Cornwall Ontario – Team Cornwall will be holding its Annual General Meeting on Tuesday, June 14th at the Ramada Hotel & Conference Centre on Brookdale Avenue. The luncheon meeting will get underway at 12:00pm (Noon).
The meeting will feature a presentation by Mrs. Maureen Adams, the newly appointed CAO for the City of Cornwall. For the past eight years, Mrs. Adams has served as the General Manager and Chief Financial Officer for the City. Her leadership experience in the municipal sector is complemented by a 20-year private sector career in both the banking and manufacturing industries.
Mrs. Adam's presentation will discuss some of the challenges and opportunities currently faced by the City of Cornwall, along with a preview of some upcoming  municipal infrastructure projects such as the redevelopment of Brookdale Avenue.
"People constantly remark how much Cornwall has changed in the decade," said Peter Gault, Team Cornwall Chair. "We're looking forward to have a sneak peek into what we might see ahead of us over the next several years."
Information Kiosks
In addition to the presentation by Mrs. Adams, meeting attendees will have a chance to visit information kiosks as well as a Team Cornwall apparel booth.
Annual General Meeting
This meeting will serve as Team Cornwall's Annual General Meeting. Lunch will be served at Noon, and the meeting will take place directly after the meal has been served. As in past years, the Board of Directors (Team Captains) will be elected and the organization's financial statements will be presented.
Open to All
The meeting is open to all – regardless of Team Cornwall membership.
Reserve Your Spot!
Tickets to the Team Cornwall Annual General Meeting are $15 each. To reserve a spot, please contact Cornwall Economic Development at 613-933-0074 or ecodev@cornwall.ca.
Categorised in: Business