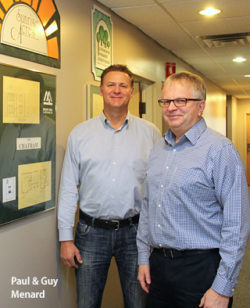 Menard Bros. Partners with Holmes Approved Homes
January 6, 2017
Cornwall Ontairo – One of Cornwall's long-standing home builders has partnered with Mike Holmes to champion proper building techniques.
Menard Bros. & Associates is now a HOLMES Approved Homes Partner Builder, building HOLMES Approved Homes.
"We take great pride in the way we build homes. It's a 60-year family tradition," says Guy Menard, President of Menard Bros.. "That's why we're very honoured and grateful to be recognized by Mike Homes as a trusted builder who cares and 'does things right the first time.'"
Mike Holmes is a Toronto area contractor who became a household name due to the popularity of the HGTV home renovation show Holmes on Homes. With his philosophy of "Make it Right", Holmes has been a strong advocate of the importance of proper construction practices.
In 2011, Holmes launched HOLMES Approved Homes to implement his mandate in new-home construction by introducing a quality assurance certification program. Every new home registered in the Program undergoes a series of stage inspections throughout construction, giving homebuyers the opportunity to purchase a home built to his standards.
"I'm always getting emails from people who want me to build their home," says Holmes. "The truth is they just want a home built right. This program is about that—building safer, healthier homes built right the first time. And we do this by partnering with builders who care about building better, so they get my guys to come in and inspect their homes as they go up."
The Program works with top homebuilders across North America whose registered homes are inspected by MIKE HOLMES Inspections. The stage inspections go over and above standard building inspections as an extra assurance select homebuilders provide their clients as proof of the value of their home, as well as the building measures that went into its construction.
"Building beyond code has always been a way of life for us, which explains why this partnership is a perfect fit," added Guy Menard. "From the beginning, we understood that some minimum building codes are just that – minimum – and we've exceeded them to create higher durability and superior performance. Third-party verification adds to new homeowners' peace of mind, both now and whenever they choose to sell their home."
You can view a video of Mike Holmes talking about Menard Bros. here:
About Menard Bros & Associates Ltd
Menard Bros. is a second generation home builder that has operated in Cornwall since 1955. Led by Paul and Guy Menard, the company has earned a reputation for customer satisfaction supported by numerous industry awards – most recently a finalist for the 2016 Tarion Homeowners Choice Awards. For more information on Menard Bros. & Associates Ltd., please visit
For more information on the HOLMES Approved Homes Program, please visit
The above announcement was included in the 2016 Year in Review report complied by Cornwall Economic Development.
Categorised in: Business