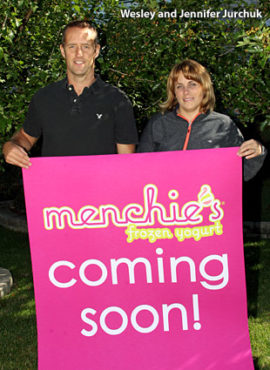 Menchie's Frozen Yogurt is Coming to Cornwall
August 29, 2014
Cornwall Ontario – Jennifer and Wesley Jurchuk are bringing a new taste experience to Cornwall, and the couple hopes that it will soon become a Cornwall tradition.
The husband and wife team will be opening a Menchie's frozen yogurt shop in the retail plaza at Ninth and McConnell. The shop will be located at the north end of the new building currently under construction at the site.
"We plan to open by the New Year," says Jennifer Jurchuk. "The response has been fantastic. Our Facebook page is growing by leaps and bounds and we don't even have a sign on the building yet!"
The decision to open a Menchie's was a family one, spurred on by the couple's three daughters who would always want to stop at a Menchie's when travelling. After careful research and planning the couple made the plunge and decided to purchase a franchise.
"The Menchie's concept is unique and we think it will fill a gap in the market," says Wesley.
Menchie's yogurt shops allow customers to serve themselves, and offer a variety of yogurt flavours as well as a long list of toppings including fresh fruit, candy and various sauces. Non-fat and non-dairy choices are also available. Menchie's yogurt is a good source of calcium as is made with fresh Canadian dairy milk.
The Cornwall shop will be larger than average and will feature an outdoor patio.
"We want to create a space where people can socialize and take a break from the hectic pace of life," says Jennifer.
Next steps include starting work on the interior of the shop now that the developer has reached the final stages of building construction. A big grand opening with a variety of activities and specials will be held once everything is ready.
"We are entrepreneurs at heart and this shop is the perfect fit for us," says Jennifer. "It also provides an opportunity for our daughters to learn the business as they grow older, and perhaps even take it over some day."
You can follow the progress of the Cornwall Menchie's shop online:
About Menchie's 
Menchie's is a network of over 300 frozen yogurt stores in several countries around the world, including the U.S.A., Canada, England, France, South Africa, China, Japan, and Australia. The first Menchie's was opened in Los Angeles in 2007, by Danna & Adam Caldwell. In 2010, Menchie's was named the fastest growing food franchise in the United States and today holds the prestigious status of the largest self-serve frozen yogurt franchise.