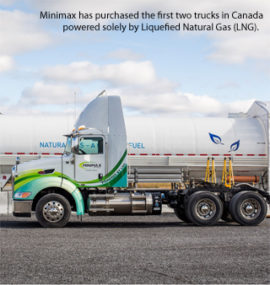 Minimax Rolls Out Canada's First LNG Trucks
December 8, 2014
Cornwall Ontario – Minimax Express Transportation is doing its part for the environment – and in the process has become a trailblazer.
The Cornwall-based transport company is the first in Canada to purchase trucks powered solely by Liquefied Natural Gas (LNG).
"The trucks have been on the road since April and they are performing really well so far," says Yves Poirier, Minimax President. "The drivers love them as they are much quieter than a diesel truck."
The use of Liquefied natural gas (LNG) in the trucking industry is seen by many as a key innovation. LNG is natural gas that has been converted to liquid form by cooling it to -160 degrees Celsius. This process allows more energy to be stored in a smaller volume. It is odorless,colorless, non-toxic and non-corrosive.
Not only is LNG cheaper than diesel, it emits fewer greenhouse gas emissions. As a clean-burning fossil fuel, natural gas is expected to play an ever more important role in worldwide energy demand. Natural gas is a resource that is readily available in Canada.
Minimax's two Peterbilt trucks with Westport engines came at a premium, costing $175,000 each compared to a regular day cab truck which costs about $110 000.00. The trucks are part of a recent $1.4 million investment in the company.
"The LNG technology reduces our carbon footprint and also reduces our cost – we're saving 6 to 8 cents per mile," says Mr. Poirier. "We estimate the return on investment is 3 to 4 years. The unknown right now is the cost of maintenance, which might actually be less than our normal fleet as LNG trucks run very clean and do not have any of the anti-pollution gadgets that diesel engine trucks are required to have."
The range of LNG trucks is similar to diesel and can handle the 890km trip to Toronto and back. Minimax is also taking advantage of the Gaz Metro LNG fueling station in the Cornwall Business Park.
"Gaz Metro has been an important partner in this venture," says Mr. Poirier. "They have helped us understand the technology and return on investment."
Environmental stewardship is a core value at Minimax. The company has become a registered SmartWay carrier and is implementing other measures such as moving to energy efficient lighting in their warehouse.
"Environmental sustainability initiatives need to make sense on an ROI stand point as well as just being the right thing to do," says Mr. Poirier. "By limiting our trucks to 100 kmh we reduce our carbon foot print by reducing the amount of fuel we burn and it saves us money. We changed the lighting in our warehouse this year. We will use less electricity which is good for the environment and again we will save money by reducing our electrical bill. The lights will pay for themselves in less than 2 years."
Long Combination Vehicles (LCV) is another way Minimax is reducing its carbon footprint on the environment. Minimax is currently running do 3 to 4 return trips per day to Toronto – weather permitting and is pleased that Ontario's Ministry of Transportation will be removing the winter restriction on the use of the tandem trailer system.
Minimax has also invested in new software that helps its customers track their shipments in real time. It is part of any overall strategy to invest in new technology that will continue in 2015.
"In business – especially the trucking business – it is important to be constantly moving forward."
About Minimax
Minimax Express Transportation operates with 90 trucks and 150 trailers from its headquarters in the Cornwall Business Park. The company has 150 employees and has opened depots in Toronto, Belleville, Ottawa and Drummondville. More info: