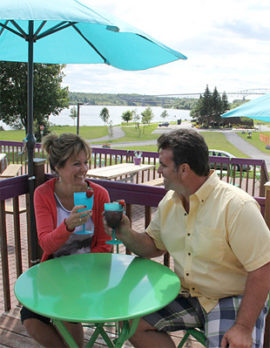 Mocktails Cornwall Opens for Business on Waterfront Patio
July 26, 2013
Cornwall Ontario – People now have a new place along Cornwall's picturesque waterfront to sit and enjoy some food and drinks with family and friends.
Mocktails Cornwall opened this week on the patio on the southwest corner of the Cornwall Civic Complex, a venue which offers a terrific view of the St. Lawrence River and Lamoureux Park.
A creation of Paul St-Onge and his partner Diane Smith, Mocktails Cornwall offers fresh non-alcoholic beverages and other drinks and treats for breakfast, lunch and dinner crowds.
"We have ice cream, waffles, crepes, fresh fruit, and even chocolate fondue," said Mr. St-Onge.
The couple is hoping that residents will make a point of stopping by as they pass along the scenic recreational path or visit Lamoureux Park's nearby playground and splash pad.
"The waterfront is beautiful," Mr. St-Onge added. "We want to help it be all it can be."
The City of Cornwall has entered into a one-year trial agreement with Mr. St-Onge to allow him to operate his business from the patio.
"This new establishment adds another unique element to our beautiful waterfront and to Lamoureux Park," said Mayor Bob Kilger. "I encourage residents to visit the park and take advantage of our great waterfront. I also want to wish Mr. St-Onge and Mrs. Smith the best of luck on their new business venture."
The operators have made some cosmetic upgrades to the four-level patio and decorated it with bright green and blue tables, chairs and umbrellas, making it a recognizable summer landmark on Cornwall's waterfront. They plan on offering live music and open mic nights on select evenings.
"We have so much talent here in Cornwall," said Mr. St-Onge. "You often don't realize everything that's here."Mocktails Cornwall will be open daily from 8 am to 10:30 pm, and there's no telling what can become of the establishment. We're here all summer long, and would like to run through November if the demand is there. We have heat lamps that we can set up to keep the customers comfortable."
While certain items may not appear on the menu, it doesn't mean they are off the table, Mr. St-Onge said.
"If you're having a birthday party in the park, feel free to ask and we will see what we can do," he added.
"Mr. St-Onge's new business is a great example of the entrepreneurial spirit that exists in Cornwall and area," said Candy Pollard of the Cornwall Business Enterprise Centre. "He saw an opportunity to create a unique spot on Cornwall's waterfront and he turned that idea into reality."
For more information on Mocktails Cornwall, visit their page on Facebook.