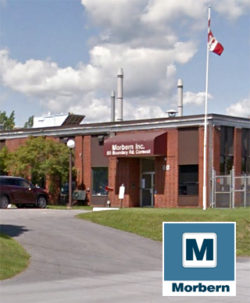 Morbern Expanding Its Workforce
September 21, 2017
Cornwall Ontario – Morbern will be adding over 30 new positions at its Cornwall manufacturing plant.
"Morbern is looking for 27 general labourers in addition to several technical and professional positions," said Joe Lalonde, Morbern's Vice-President of Finance and Administration. "These new people will complement our existing team of over 250 dedicated workers at our Cornwall facility.  We are experiencing significant growth in many of our markets, which requires us to increase production to meet demand."
The following positions are available, with job postings listed on the Work in Cornwall portion of this site:
Environmental Health and Safety Manager
Electrician
Millwright
Shift Supervisor
General Labourers
Morbern manufactures decorative vinyl upholstery fabrics for clients in the corporate, healthcare, hospitality, marine, transportation and automotive sectors.  The company recently completed a major expansion of its facility in the Cornwall Business Park, adding 18,000 square feet of manufacturing space to accommodate a new state-of-the-art high-speed coating line to keep up with its growing sales opportunities.
Morbern is one of Cornwall's largest private sector employers, and a long time fixture in the Cornwall Business Park. It was recently the recipient of the Economic Impact of the Year award from the Cornwall Chamber of Commerce.
"We have been a proud member of the Cornwall business community for more than 50 years, and we look forward to continuing to grow here for years to come," said  Jacques St. Denis, President of Morbern.
About Morbern
Morbern is a privately held, coated fabric manufacturer located in Cornwall, and has been producing in Cornwall for 52 years.  The company has annual sales of more than $100 million, sellling automotive, heavy truck, and general seating products to markets throughout the NAFTA region.  Morbern employs roughly 350 people throughout the world, 250 of which are in Cornwall.
Categorised in: Business