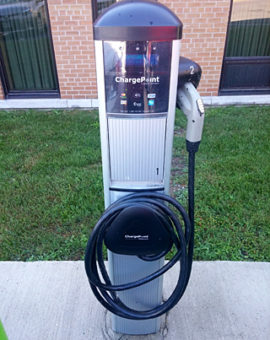 More Electric Car Charging Stations for Cornwall
July 14, 2016
Cornwall Ontario – Electric car owners will soon be able to get a bigger charge while driving around Cornwall.
The province will be creating 3 new electric vehicle (EV) charging stations in the city. The locations are as follows:
Tim Horton's – 81 Tollgate Road West
McDonald's – 1301 Brookdale Avenue
St. Hubert – 705 Brookdale Avenue
The above three locations join existing electric charging stations in Cornwall:
Best Western – 1515 Vincent Massey Drive
St. Lawrence College- 2 St. Lawrence Drive
Ramada – 805 Brookdale Ave (Dedicated Tesla SuperCharger station)
The new locations will be Level 3 charging stations (also known as Direct Current Fast Chargers or DCFC) and will feature a 480 volt system that can charge a vehicle to 80 per cent in about 30 minutes.  These stations allow EV drivers to charge their vehicles about eight times faster than Level 2 charging stations, and permit them to travel further than ever before.
"By investing in charging infrastructure that is fast, reliable and affordable, we are encouraging more Ontarians to purchase electric vehicles, reducing greenhouse gas pollution and keeping our air clean," said Steven Del Duca, Minister of Transportation.
The new Cornwall charging stations are part of an larger province-wide effort to help reduce greenhouse gas pollution and fight climate change. Ontario is building almost 500 new electric vehicle charging stationsand the entire network is expected to be in service by March 31, 2017. There are nearly 7,000 electric vehicles currently on the road in Ontario.
The $20-million investment under Ontario's Green Investment Fund will expand charging infrastructure across the province and will help address "range anxiety," a common concern of consumers regarding the distance electric vehicles can travel compared to traditional vehicles. Building a more robust network of public chargers across Ontario allows electric vehicle owners to plan longer trips knowing that charging stations are as readily available as gas stations.
"Transportation is one of the single biggest contributors to climate change," said Glen Murray, Minister of the Environment and Climate Change. "Supporting more charging stations across the province will help to reduce greenhouse gas pollution by making it more convenient for drivers of electric vehicles to get around."
The $325-million Green Investment Fund, an initial investment in Ontario's new five-year Climate Change Action Plan, is already strengthening the economy, creating good jobs and driving innovation while fighting climate change — a strong signal of what Ontarians can expect from the plan and proceeds from the province's cap and trade program. These investments will help secure a healthy, clean and prosperous low-carbon future and transform the way we live, move, work and adapt to our environment while ensuring strong, sustainable communities.
Categorised in: Business