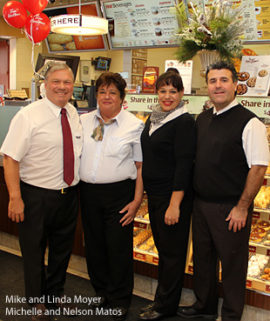 Moyer Family Opens Renovated Tim Hortons Restaurant
December 12, 2013
Cornwall Ontario – It will now be easier to get your hands on Cornwall's favourite coffee following a major renovation to the Tim Hortons restaurant on Marleau Avenue.
The restaurant has been completely renovated and the drive-thru area expanded to allow for two ordering lanes.
"This location is very popular with many wonderful and loyal customers," said Mike Moyer, who along with his wife Linda owns several Tim Hortons in Cornwall. "We wanted to improve the experience both indoors and at the drive-thru window."
The new restaurant features Tim Hortons new cafe-style look, with upscale fixtures, soft lighting, a big screen TV and lounge-style seating. The restyled exterior features brick and wood enhancing the street presence of the restaurant. The iconic logo and road sign signs remain as a welcome beacon to coffee-lovers looking for their favourite cup of java.
The interior layout has seating for 37 and has been redesigned to offer better customer service. The kitchen area is bigger, and now features a 'Theatre Baking Area'.  Theatre baking allows customers to see the bakers at work and actually finish the product. The concept is a return to the good old days of traditional bakeries.
"The store was due for updates and renovations – like our donuts, we like to keep things fresh," said Mr. Moyer. "Feedback from our customers has been very positive."
Staff were excited to reopen their restyled location after roughing it in a trailer for about four weeks while construction took place. The changes have resulted in an increase in staff and some operational improvements. Perhaps the most welcome change is in twinning of the drive-thru.
"Simply put, the twin drive-thru means your order gets to our staff earlier, which means your coffee and food is in your hands quicker," said Mr. Moyer.
All in all, project costs have come in at around $1 million. Local contractors were used wherever possible which means much of dollars were reinvested in the community. It is an investment that Mr. Moyer is happy to make.
The Moyers and daughter Michelle opened their first Tim Hortons in Cornwall several years ago as strangers in a new community.
"From the day of the opening," said Mike and Linda, "this community embraced our family with love and support, and this community is what we now call home."
The Marleau restaurant was the first restaurant that Mike and Linda built and they honoured good friend Ray Lalonde by naming the entranceway "Ray Lalonde Way". The long-time City Councillor was a daily customer and provided guidance and inspiration.
"We lost Ray to MS a few years ago, but we keep his love of people alive," said Mike.
Mr. Moyer owns and operates the Tim Hortons at the Eastcourt Mall, Cornwall Square, Montreal Road and Marleau Avenue. Well known in the community for their enthusiastic support of dozens of local charities, they are also members of the Chamber of Commerce and Team Cornwall.
Daughter Michelle and her husband Nelson Matos have entered into succession planning with Linda and Mike and are gradually acquiring the restaurants. Michelle and Nelson presently own the Tim Hortons in Lancaster and are presently in the process of purchasing Montreal Road and Marleau.