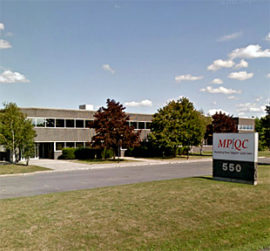 MPIQC Expands with Help from Feds
July 11, 2013
Cornwall Ontario – Another Cornwall company is expanding as it implements a plan to compete on a global basis.
MPIQC is an electronics manufacturer situated in a modern 85,000 sf facility in the Cornwall Business Park. The company has recently received funding to purchase new state of the art equipment and in the process has created 15 new jobs.
MPIQC is receiving a total of $1,200,000 in loans from three federal support programs:
Southern Ontario Fund for Investment in Innovation (SOFII): $500,000
Community Ventures Capital Fund Inc.: $450,000
SD&G Community Futures Development Corporation: $250,000
"I am really proud of how these programs have come together to create this success story," said MP Lauzon. "The Government of Canada recognizes that innovation is a vehicle for prosperity in both rural and urban communities. Through SOFII, we are investing in innovative companies that will create new business prospects and help to secure a prosperous future for all of eastern Ontario."
MPIQC Inc. is a contract manufacturer that provides products and services for a wide array of clients including space and satellite, military and defense contractors; communication firms; governments; automotive specialty firms and medical companies.
"This combined investment will assist us in taking MPIQC to the next level," said Claude Girard, President and COO of MPIQC. "Our company is growing and so is the need to update our equipment. Because of the support of these investing partners MPIQC now has the latest technology to increase its productivity and compete on the global scene."
MPIQC has purchased 3 new Samsung Dynamic Chip shooters, and is expected to increase employment levels from 55 to 70.
In 2012, MPIQC received assistance from the Eastern Ontario Development Program to upgrade a key piece of machinery and cross train several employees.  Responding to continued opportunities for growth, the company returned to the SD&G Community Futures Development Corporation for further assistance.
"With the support of our Investment Fund and other funding partners we are proud to be supporting local businesses and assisting them in reaching their goals of increasing their skilled workforce and upgrading equipment,"  said François Désormeaux, Executive Director of SD&G Community Futures Development Corporation.
Launched by the Government of Canada in the summer 2012, the Southern Ontario Fund for Investment in Innovation (SOFII) is made up of two loan funds supported through FedDev Ontario's Prosperity Initiative. Of the $20-million contribution, $8 million has been allocated to the east, and is being delivered by the Eastern Ontario CFDC Network.
"MPIQC is a forward-thinking manufacturing company that will leverage these investments to increase productivity through new technology,  diversify and expand their customer base and improve its inventory management. The Southern Ontario Fund for Investment in Innovation (SOFII) was designed to support innovative companies, like MPIQC, that are positioning themselves as globally competitive while continuing to support their  local communities," said Carol Armstrong, Executive Director of the Eastern Ontario SOFII program.   "We are pleased to join the other funding partners in supporting the creation of fifteen (15) new jobs in Cornwall, Ontario, and enabling the 55 employees to focus on output rather than equipment maintenance and thus increase efficiency, productivity and customer added value."
About MPIQC
MP∫QC is an Electronic Manufacturing Services (EMS) company, providing services the highest standards to be recognized as a global leader in OEM optimization in IPC Class 2 & Class 3 manufacturing. The company has worked on projects in markets such as Defence, Military, Space, Communications and High-End Commercial. MP∫QC is registered to ISO9001:2008 standards and is certified and compliant with the Defence Production Act and the Controlled Goods regulations.  http://www.mpiqc.com/
About SOFII
SOFII provides interest-bearing business loans valued between $150,000 to $500,000 to support innovation and growth in small- and medium-sized businesses across the region. The project uses the expertise of the Eastern Ontario CFDC Network and many other local partners to address the unique needs and challenges of the innovative businesses in rural and urban eastern Ontario, such as new product development and development of new processes or technologies.
For more information about SOFII, please visit www.SOFII.ca.
For further information on the loans and business assistance available through the SD&G CFDC, visit http://www.sdgcfdc.on.ca/en/loans-and-business-development/loans-fund/.