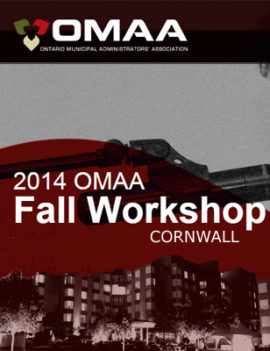 Municipal CAO Conference Lands in Cornwall
September 30, 2014
Cornwall Ontario – The Ontario Municipal Administrators' Association (OMAA), will be holding its annual Fall Workshop at the NAV Centre in Cornwall from October 1st  to 3rd.  The event is expected to attract 100 Chief Administrative Officers (CAOs) from across Ontario.
"These events are superior professional development opportunities and are geared to the Ontario CAO," says Steve McDonald, CAO for the Municipality of South Dundas, and Past Board Member of OMAA." I'm looking particularly forward to this Workshop having worked on the Host Committee with my fellow SD & G and Cornwall CAOs. The last time this event was held in this area was 1990 and I believe the attendees will be impressed with what Cornwall and the Counties have to offer."
The theme of the Workshop is "Come Along for the Ride…"  and one highlight will be keynote speaker Charles Montgomery. Mr. Montgomery is an award-winning Canadian writer and urbanist who creates transformative conversations about cities, science and human well-being. He explores the link between the ways we design our communities and the ways we think, feel and act by using psychology neuroscience, behavioural economics and examining community scapes from Disneyland to Dubai.   His work demonstrates how each of us can change our own lives by changing our relationship with the communities we inhabit.
One important session will concern best practices for recruiting for senior positions. Municipal organizations, like many of Canada's employers, face challenges in replacing senior employees as they retire.
Other sessions include 'Provincial Municipal Relations in Ontario' and with municipal elections on the horizon, 'Getting Ready for your Next Council'.
"Continuing education is important in any organization and the OMAA has put together a very interesting agenda," said Norm Levac, CAO for the City of Cornwall.  "The NAV Centre is a world class facility and we are pleased to host our colleagues from across Ontario."
About the Ontario Municipal Administrators Association
The Ontario Municipal Administrators Association membership is comprised of individuals who exercise all-encompassing management responsibilities for Ontario municipalities. The members of OMAA are dedicated to the concept of effective, democratic local government by responsible elected officials. They strive to enhance the value of the municipal order of government by promoting continuous improvement in municipal government administration and leadership excellence in local public service throughout Ontario.
About the NAV CENTRE
Located on the scenic shores of the St. Lawrence River in Cornwall, the NAV CENTRE is a full service conference centre offering access to 551 guest rooms and 70 dedicated state-of-the-art meeting rooms, spa, fitness centre with indoor pool and an Irish pub with live entertainment. The Centre can accommodate small groups of five to large groups of up to 500. Learn more at www.navcentre.ca.