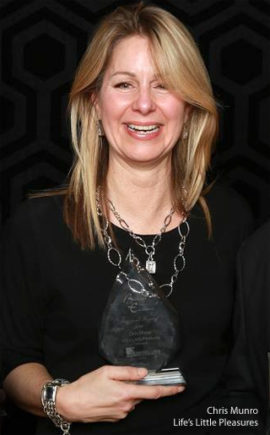 Munro Goes Above And Beyond In Promoting Downtown Cornwall
February 24, 2015
Cornwall Ontario – The Above and Beyond award recognizes exemplary service in the community. Generally speaking, it is awarded to a firm or individual who goes above what would generally be expected.
The Chamber of Commerce recognized the efforts of Chris Munro at the recent Business Excellence Awards gala. Specifically, Ms. Munro is seen as a community leader who is making a difference in promoting the various merchants of Downtown Cornwall.
"I believe in Cornwall," said Ms. Munro, who is the proprietor of Life's Little Pleasures, a Pitt Street shop that offers an eclectic selection of jewellery, clothing and home decor items. "I think helping neighbours succeed simply makes good business sense, for if everybody does the same, the end result can be amazing."
In addition to operating her own store, Ms. Munro has been active promoting downtown as a shopping and dining destination, working with other downtown business owners in organizing a number of successful events.
"Thanks to her never-ending optimism and faith in our Downtown, Chris has helped enhance Cornwall's image both locally and abroad." said Allison St. Louis, Chair of the Downtown Cornwall Business Improvement Area.
Ms. Munro has also been active in attracting new merchants to the area, often working behind the scenes.
"Our Downtown has certainly stepped up its game and I enjoy collaborating with innovative small business owners who also strive to bring the very best in product and customer service," said Ms. Munro. "Wrangling new businesses to our core to ensure a stronger, healthier and more vibrant area is something I am very passionate about. I've always believed in our downtown and as it grows, it makes it easy to recommend and promote our area to tourists and potential future residents."
You can learn more about Chris Munro and Life's Little Pleasures online:
About the Cornwall and Area Chamber of Commerce
The Cornwall and Area Chamber of Commerce is the unified voice of the region's business community speaking towards growth, leadership and innovation on behalf of 700 members.
The Business Excellence Awards recognizes and celebrates firms and individual who have distinguished themselves by fostering growth, innovation, community service and excellence in their sectors. The awards are selected by committee of peers and announced at a gala event held at the Cornwall Civic Complex.
2015 will be a significant year for the Chamber as the business association marks 125 years of continuous commitment to the community.
For more information, please click on the following links:
Photo by Moment.Us Photography