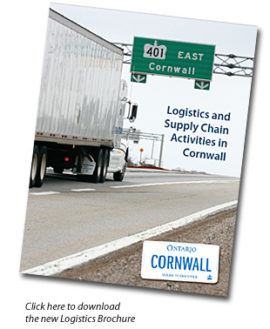 National Attention on Cornwall's Logistics Sector
April 25, 2013
Cornwall Ontario – Cornwall's growing logistics and supply chain sector is grabbing the attention of more and more people. While a key part of that story has been the growth of trucking companies such as Minimax Express, ITS and Seaway Express, the driving force has been the establishment of large distribution centres in the Cornwall Business Park.
This Friday, Eleven Points Logistics is holding a job fair to help fill several hundred positions at their massive 1.4 million sq.ft. distribution centre. The job fair has resulted in significant local media coverage, as well as in Ottawa at Le Droit and the Ottawa Business Journal. Some of Canada's leading sector magazines have also covered the story, most recently Canadian Transporation and Logistics, Canadian Manufacturingand Materials Management and Distribution.
"For our readers, the opening of new distribution centres is always big news. So when word came out about the job fair at Eleven Points Logistics' Cornwall, Ontario facility, we knew we owed it to our readers to share the information," said MM&D editor Carolyn Gruske. "Plus it's always a pleasure to be able to tell a 'good-news' story and the creation of hundreds of jobs in the supply chain sector definitely qualifies as good news."
In the article, Eleven Points Logistics General Manager Alan La Barge talks about why people would want to work at the new facility. He points to a good pay/benefits package, the chance to work in a high-tech new facility, and of course the attraction of working for one of the world's best retailers, Target. You can read more of Mr. La Barge's comments on the magazine's website.
Of course Target is not the only retailer to have a distribution centre in Cornwall. A couple of years ago Shoppers Drug Mart established a new facility just around the corner from the well established Eastern Canada distribution centre for Walmart.
The establishment of logistics operations in Cornwall has led St. Lawrence College to develop programming to support local firms. The College has recently announced a graduate level course in logistics and supply chain management, and is currently accepting applications for the semester starting in September.
National organizations such as the Canadian Supply Chain Sector Council and Supply Chain Logistics Canada (SCL) have also taken notice of Cornwall.  St. Lawrence College has been invited to deliver a session at the SCL national conference in Toronto (May 14-16). Cornwall is a sponsor of the conference, and in June SCL will come to Eastern Ontario with a SmartWay seminar on June 4.
Learn More!
You can learn more about Cornwall's logistics and supply chain sector in the new Logistics Brochure and other documents in the Resources section of this website.
You can find links to employment opportunities in the logistics and supply chain sector in the Work in Cornwall section of this website.