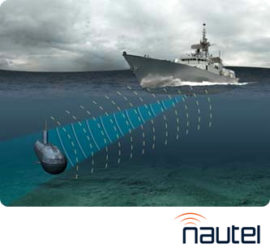 Nautel Expands Sonar Initiative With C-Tech Acquisition
November 27, 2013
Cornwall Ontario – Nautel, a technology firm based in Nova Scotia, has acquired sonar manufacturer C-Tech, which is based in the Cornwall Business Park.
"We are excited to welcome the C-Tech team to the Nautel family. Both organizations share a heritage of engineering innovation and a focus on customer satisfaction." said Peter Conlon, Nautel President and CEO. "Given the strengths of the two companies and the solid footing of the Nautel Capital Group, we expect even greater opportunities for growth and to serve our customers going forward."
C-Tech commenced operations in Cornwall in 1969, the same year that Nautel was founded.
Over its four decades of operation, C-Tech has evolved into a world leader in the design, development and manufacturing of sonar systems for international defence and non-defence customers. In 2009, C-Tech was acquired by Marport Canada.
"The addition of C-Tech opens many new growth opportunities for Nautel and offers many market, engineering and manufacturing strengths said Kevin Rodgers, Chair of Nautel Capital Corporation Inc.. "The C-Tech acquisition is a significant step in achieving Nautel's diversification and growth plan."
"The acquisition of C-Tech by Nautel will allow both companies to draw on each others' technical and marketing strengths to further develop and expand their product lines and customer base" said Dennis Derouin, General Manager of C-Tech. "This is a good news story for Cornwall and the employees of C-Tech who are now part of an organization committed to making the investments required to build on the solid reputation established by C-Tech over its 44 year history."
C-Tech will continue to operate in Cornwall, Ontario under the leadership of Dennis Derouin and his local team with the support and stewardship of Nautel. The business is expected to have an initial workforce of approximately 30 full time and contract employees.
"We are happy to welcome Nautel to Cornwall, and are very pleased that today's announcement will mean that C-Tech has a renewed opportunity to build it's world-class sonar technology here in Cornwall," said Mayor Bob Kilger. "This is an important day not only for both companies, but for all individuals involved."
Financial details of the transaction are not being disclosed.
About C-Tech
With over four decades of experience in underwater acoustics, engineering, software development and manufacturing, C-Tech has the capability to design, develop and manufacture complete end-user equipment and systems, meeting and exceeding customer requirements in the areas of electro-acoustic performance, mechanical design, long-term corrosion resistance, pressure housings, and long-life power sources. In addition to the Canadian Navy, C-Tech customers include the US Navy, Royal Danish Navy, Royal Swedish Navy, Royal Australian Navy, South Korean Navy, Belgian Navy, Hellenic Navy, Portuguese Navy, Bangladesh Navy and others.
About Nautel
With its 45 year track record of innovation in transmission technologies, Nautel has emerged as a leading manufacturer of broadcast transmitters and navigational products. Two ISO 9001:2008 certified manufacturing facilities, one in Canada and one in the United States, provide comprehensive design, fabrication, assembly and testing. With over 12,000 transmitters deployed in over 177 countries since 1970, Nautel continues to lead the way in providing valuable new solutions for navigation and broadcast applications.