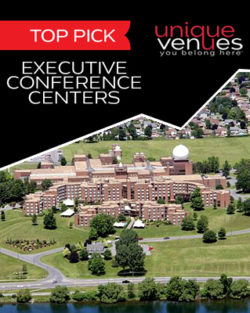 NAV CENTRE Recognized as Top Executive Conference Centre
February 8, 2018
Cornwall Ontario – Cornwall's NAV CENTRE is in some pretty select company.
The sprawling facility on the banks of the St. Lawrence River has been recognized as a 'top pick' executive conference centre by Unique Venues – 1 of 12 in all of Canada and the United States.
The Unique Venues article describes the 70-acre venue as a "thrilling meeting experience" that can accommodate both small and large gatherings in addition to providing a vast array of recreational offerings to guests.
"We are very pleased with this recognition highlighting properties within the US and Canada," said NAV CENTRE General Manager Kim Coe-Turner. "It has been a team effort and lots of hard work to get to this point and it sets the NAV CENTRE apart from other venues of choice."
To see the Unique Venues article in full, please click here.
Known as eastern Ontario's largest conference and meeting centre, the NAV CENTRE features 50,000 square feet of meeting room space along with 560 guest rooms, an indoor pool, gym, fitness centre and spa. The facility is located just steps from the celebrated Waterfront Trail which runs along the St. Lawrence River.
The NAV CENTRE welcomes thousands of visitors each year for meetings, conferences and special events like the Wonderful World of Whisky Show, the Woodsmoke Bluegrass Jamboree and numerous other events.
In addition to conferences and special events, the NAV CENTRE is home to a number of aviation-related programs for international clients. The courses range from introductory training to refresher and advanced courses. The venue is also home to the Cornwall Innovation Centre.
Unique Venues is a marketing and membership organization headquartered in Colorado that is committed to bringing together one-of-a-kind event venues with meeting planners who are ready for something new.
For more information on the NAV Centre, please visit www.navcentre.ca.
Categorised in: Business