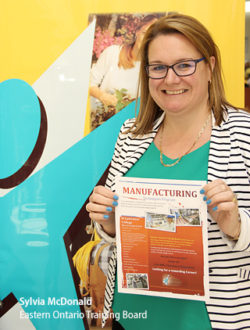 New 18 Week Manufacturing Techniques Program
April 28, 2017
Cornwall Ontario – Job seekers looking for a career in manfacturing should take a closer look at a new course offering from the Eastern Ontario Training Board and St. Lawrence College.
The Manufacturing Techniques Program is a 12 week full-time college level course along with a 4 week paid work placement in a manufacturing setting.
"The objective of the program is to provide people with real-world skills and experience that will lead to permanent employment," says Sylvia McDonald, Project Assistant with the Eastern Ontario Training Board.
The Manufacturing Techniques Program runs May 22 to Sept 8 2017 at the Cornwall Campus of St. Lawrence College. Applications are urged to contact Sylvia McDonald at 613 932-0210.
"There is room for 30 students, and the course is already half-full," notes Ms. McDonald. "People who are under 29 and lacking skills, education or experience are ideal candidates."
The Manufacturing Techniques Program is funded by the Ontario Ministry of Economic Development Growth.
Course Curriculum
WHIMIS, Lockout Tag out, Forklift Training, Occupational Health & Safety, SPR/ First Aid – St John's Ambulance, Working at Heights, Safe Food Handling, transportation of Dangerous Goods, Spill Response & Personal Protective Equipment.
Communication/ Team skills
Employability Skills
Technical Math
Computers
Electricity
Mechanics
Interpreting Blueprints
Inventory: purpose and cost
Quality Concepts – Intro to Lean, ISO, A. Kean
Measuring Devices
Supply Chain Management
About the Eastern Ontario Training Board
The Eastern Ontario Training Board (EOTB) was established to play a leading role in labour force development. It undertakes a number of projects throughout the year, and publishes the TOP report on local labour force issues. More info can be found online:
About St. Lawrence College
Located along the shores of the St. Lawrence River, St. Lawrence has College has three campuses in Brockville, Cornwall and Kingston. The College boasts 6,500 full-time students from Canada, and more than 40 countries worldwide. The SLC college community includes 20,000 part-time students, 1,000 staff, and more than 70,000 alumni. The college has recently invested in the development of Applied Research and the revitalization of its campuses.
You can find out more information on the St. Lawrence College website:
Categorised in: Business