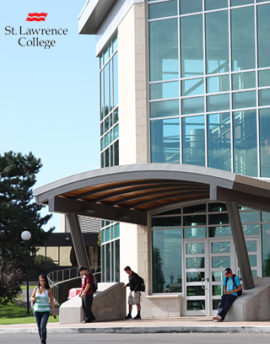 New Academic Year Underway at St. Lawrence College
September 8, 2015
Cornwall Ontario – It is back to school time for students at the Cornwall Campus of St. Lawrence College.
Fall enrollment at St. Lawrence College remains strong, with over 1100 full-time students enrolled at the Cornwall campus.
"We're off to a great start," said Don Fairweather, Dean of St. Lawrence's College Cornwall Campus. "We have 650 first year students which is about on par with last year and a very good number for us. Overall we have about 1150 full time students studying across more than 30 programs."
One of the programs unique to Cornwall is a graduate program in Logistics and Supply Chain, which introduces all facets of the sector from a theoretical and practical perspective.
New to the Cornwall Campus this year is the Community Integration through Co-operative Education (CICE) program, which is a two-year certificate program designed for adults with developmental disabilities, intellectual disabilities, acquired brain injury or other significant learning challenges who wish to further their education/vocational training in a community college setting.
Students come to SLC because they know they'll be career ready when they graduate, according to Glenn Vollebregt, President and CEO of St. Lawrence College.
"Our Key Performance Indicators show year after year that making the choice to pursue their studies at SLC means they'll be on the right path to the career of their dreams, or to furthering their education," he said. "We're proud of our record and continue to strive every day to put our students first, and provide the best educational environment."
The 2015 KPI results show that:
88.1% of SLC graduates found work within six months of graduating
80.7% of students are satisfied with their education at SLC
87% of employers are satisfied with the quality of educational preparedness of SLC grads
86.1% of SLC graduates are satisfied with the usefulness of their college education in achieving their goals.
New first-year students were welcomed with a full day of fun activities today, including a welcome ceremony, program information, a BBQ, and many more orientation day activities.
Students had the chance to participate in breakout sessions to learn more about their program, meet their professors, and connect with other students. Activities continue during Welcome Week, when students can sign up athletics, discover clubs on campus, visit with local vendors, and find out more about College services.
Activities continue during Welcome Week for all returning students.
About St. Lawrence College
With three campuses in Brockville, Cornwall, and Kingston, St. Lawrence College is an integral part of the economic life and social fabric of Eastern Ontario with a close-knit community of 7,000 full-time students, and more than 70,000 alumni. Hundreds are also enrolled in online and continuing education courses each year. SLC college has many Applied Research projects in progress, and its Corporate Learning and Performance Improvement group has helped more than 350 organizations grow and prosper.
The Cornwall Campus is nestled on the banks of the St. Lawrence River, and shares its campus with Aultsville Theatre, the head office of the Canadian Colleges Athletics Association and the St. Lawrence River Institute of Environmental Sciences.