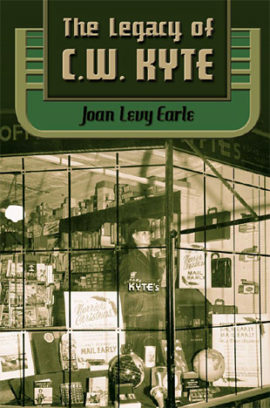 New Book Celebrates Small Business in Cornwall
June 13, 2013
Cornwall Ontario – Cornwall's downtown has changed over the years. The dirt roads have long been paved over, street cars have been replaced with modern buses and today's restaurant fare is surprisingly cosmopolitan.
Yet certain things have remained the same. People still greet each other on the street with a friendly hello, and local merchants offer a diverse mix of goods with unparalleled service.
The saga of one such store and its owners over the years is the subject of a new book by Joan Levy Earle.
Titled The Legacy of C.W.Kyte, the book chronicles the story of Charles Kyte and his family business which he founded in 1889. Ms. Levy Earle has a connection to the building – she and her husband John purchased the store from the Kyte family in 1988. Ms. Earle was an icon on Pitt Street, a quiet leader whose passion for the arts inspired many local artists.
"Mr. Kyte's story is an interesting one, as is the story of Cornwall's downtown," said Ms. Levy Earle. "This book was a pleasure to write, and I am pleased at the response so far."
The story begins when a 27 year old Charles Kyte opens C. W. Kyte Stationers, selling specialty books, office supplies, and fine stationery. He would run the store on Pitt Street until 1955, when he died at the age of 92. The store would remain open under the stewardship of his son Reginald, with its unofficial slogan "Kyte's Have It!" – a nod to the diverse and comprehensive nature of in-stock merchandise. In 1988, Jack and Joan Earle would buy the business allowing Reginald Kyte to retire.
Dedicated to upholding the store's status and community reputation, Jack and Joan decided to not hang an "Under New Management" sign. They gave Reginald a key to come and go as he pleased and waited months before answering the phone with the store's new name "The Sanctuary".
The Sanctuary would reserve its own place in history, becoming a popular source of music sheets and art supplies, until Ms. Levy Earle eventually sold the store in 2004.
The book is a testament to challenges faced by independent business, and celebrates that the store was open in three different centuries. Ms. Levy Earle has thoughtfully included historical photographs of the store and downtown Cornwall, along with reproductions of vintage ads from the store's history.
"I think history helps us develop who we are as a person and as a community, too," says Ms. Levy Earle. "It's the perseverance of being in a small business that would encourage other people in small business."
The book has received positive reviews, including from Lawrence Scanlan, author of A Year of Living Generously.
"We live in an age of big-box, big-chain stores, so I was charmed and delighted by this tale of a small, proud bookstore that paid far more than lip service to the notion of customer service. There are lessons here – history lessons, to be sure, for the people of Cornwall – but lessons, too, for the rest of us: about loyalty, about the allure of a tin ceiling, and the beauty of small. Sanctuary indeed."
The Legacy of C.W.Kyte is now available at Life's Little Pleasures on Pitt Street, Cole's book store at the Cornwall Square as well as the Cornwall Community Museum.  You can also purchase a copy through General Store Publishing, at www.gsph.com
ABOUT THE AUTHOR
Joan Levy Earle is a Canadian author and artist who has enjoyed a variety of careers.  She has written ten other books and has exhibited her impressionistic paintings in oil and watercolour in dozens of showings throughout Canada. She is presently employed as associate editor of the Canadian Messenger of the Sacred Heart magazine in Toronto, Ontario, and writes a weekly column called "Hopelines" for the Standard Freeholder newspaper in Cornwall.  More information, including some of her paintings can be viewed on her website at www.JoanLevyEarle.com.