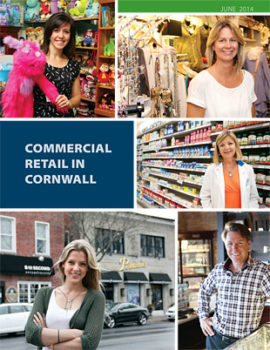 New Brochure Seeks To Attract Retailers To Cornwall
June 20, 2014
Cornwall Ontario – Cornwall is Eastern Ontario's fifth largest retail market, and Cornwall Economic Development has produced a new brochure in the hopes of attracting new investment.
The new 8 page Commercial Retail in Cornwallbrochure provides demographic information on Cornwall's retail trade area, which includes Stormont Dundas and Glengarry.
"There are a number of commercial retail development projects underway in Cornwall right now, and we wanted to deliver additional information on the local market that would be of interest to retailers," said Bob Peters, Senior Development Officer.
The brochure includes a map of Cornwall that identifies traffic figures for key intersections in the City, as well as providing population numbers for specific geographic areas.   The brochure highlights the Heart of the City program which provides incentives for commercial development in the Downtown and Le Village districts.
The brochure also identifies key commercial retail hubs and the developers that are offering space. A number of new retail plazas have been constructed in recent months, including:
Smart Centres – new 195,000 sf development underway
Goldmanco – new 10,000 sf building under construction
Villarboit – new building underway for Future Shop
Harden – new Boston Pizza restaurant opened this spring
These new developments are in addition to established commercial hubs operated by CREIT, RIO CAN, Iberville, Partners REIT and Choice Properties, most of which have recently welcomed new tenants.
The brochure was launched by Department staff at the ICSC Conference in Montreal and will be mailed out to targeted retailers.
Copies of the brochure can be obtained by filling out the Request Info form. An electronic copy of the brochure and the traffic/population map can be downloaded via the Resources page.