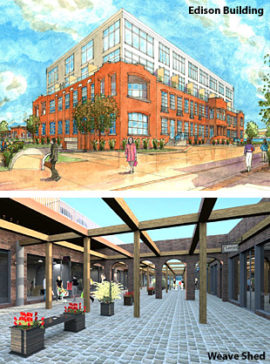 New Condos Under Development At Cotton Mill
July 31, 2014
Cornwall Ontario – Excitement is building in the Cotton Mill District as work intensifies on the construction of new condominiums overlooking the St. Lawrence River.
"We're making real progress on the Edison building and we expect to have occupancy in late fall 2015," says Bob Pelda, owner of R.M.P. Construction. "This is an unparalleled opportunity to live along the St. Lawrence and still have all the comforts of an urban location."
Mr. Pelda and his team of talented trades people are hard at work at transforming a portion of the heritage mill into 32 new luxury condos. The Edison building will feature two levels of units that feature large brick windows overlooking the river, high ceiling heights with many of the heritage elements of the building in place. The third level will feature 2-storey custom built penthouse units that will be pre-built and lowered into place.
Derek Scott is in charge of selling the units, and the former soldier says it is an exciting process to show people the potential of living along the river.
"People can stand in the existing mill and feel the history of the building," says Mr. Scott. "At the same time, it is easy to envision what the final product will look like, and just how amazing the combination of architecture, quality finishes and natural settings will be."
The Edison building is 84% sold out, with several people lined up to scoop up units should any become available. There are only 4 remaining units for sale – all on the penthouse level. All units come with underground parking.
The Edison Building has been named to commemorate the 1882 installation of Thomas Edison's electric incandescent lamps in glass globes at the Stormont Dundas Canada Cotton Mills.
Mr. Scott is also working to fill commercial space in the adjoining weave shed building, a portion of which RMP recently acquired. Popular restaurant Eight Zero Zero will be relocating to the building, and deals have also been arranged with a pharmacy and coffee shop.
"We would love to welcome medical professionals such as a doctor or dentist," says Mr. Scott. "We can offer them a custom designed pace with river views."
With the Edison Building almost sold out, interest is picking up in the Bell Building.
The Bell Building will be completely new construction and will offer 52 condominiums overlooking the river. It will be located to the west of the Edison and Weave Shed.
"We are currently at 50% occupancy which means that if sales continue on this pace we will be in a position to begin construction as early as next year," says Mr. Scott.
For more information please contact Derek Scott, Cotton Mill Lofts Sales Manager at 613 331-0752 and reserve your personal appointment today.
About R.M.P. Construction
R.M.P. Construction & Development Ltd. focuses on discovering and redeveloping under-appreciated waterfront properties. The company is a leader in brownfield and urban infill projects, and has utilized the City of Cornwall's Community Improvement Plans to ensure the success of their developments. In 2011, RMP completed the nearby 54 unit Cotton Mill lofts building.
More information can be found online: