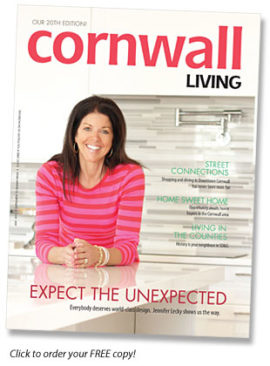 New Edition of Cornwall Living Magazine Hits the Streets
May 29, 2013
Cornwall Ontario – Spring in Cornwall heralds a new beginning, as the city becomes alive with green and residents take to outdoor parks and recreational trails with enthusiasm.
Spring also heralds the arrival of Cornwall Living, a popular magazine that features a number of articles about living in and around Cornwall. And at 100 pages, the 2013 edition is the biggest yet.
"This year we wanted to go that extra mile and devote more pages to the stories and photos that people love," said publisher/ and TC Media General Manager Rick Shaver. "The magazine looks great, and we hope people will share it with their friends."
A major theme of this year's magazine deals with interior design and the local real estate market. Local design consultant Jennifer Lecky graces the cover and the feature articles are supported by many businesses in Cornwall that support home renovation activity.  It is a section that is already proving popular with people who have seen the magazine.
"There are some excellent residential properties in Cornwall and people are paying more and more attention to beautifying their properties," says Terry Landon, Broker/Owner with Remax Cornwall. "The current market offers a wide range of choices from beautiful waterfront homes to newly built condominiums to single family homes in well established subdivisions."
Other stories in the magazine showcase the ongoing revitalization of Downtown Cornwall, the $120 million dollar redevelopment of Cornwall Community Hospital, the opening of the Eleven Points Logistics Distribution Centre, Team Cornwall news, new programming at St. Lawrence College and a feature on the Townships of Stormont Dundas and Glengarry.  The magazine is designed and edited by Colleen Parette, and many of the stories were written by Seaway News editor Todd Lihou.
You can also view a video introduction to the magazine featuring local musicians Elly May:
The magazine also has an 8 page photo-essay celebrating life in Cornwall and area, featuring photography by local photographers such as Jason McNamara, Claude Bissonnette, Rob Lefebvre, Dan Morency, Jackie MacRae, Melanie Alquire, Matt Delaney, Nancy Young and others.
Cornwall Living is expected to be a popular addition to the information packages that Cornwall Economic Development sends out to business and residential investors. In addition to trade shows and other efforts, the City Department will be mailing the magazine to over 3000 individuals, businesses and government officials in Canada, the United States and abroad. The magazine has proven to be popular at Canadian Consulate offices around the world.
"Cornwall Living is provided to every new resident and commercial investor that contacts our office looking for information on the City," says Bob Peters, Senior Development Officer with the City of Cornwall. "Last year we distributed over 10,000 copies of the magazine and demand easily outstripped supply."
2013 marks the 20th year that TC Media- Seaway News has published a quality gloss magazine celebrating life in Cornwall.  The 2012 magazine was recently acknowledged with a special Folios award by TC media in May of this year. With an overall circulation of over 36,000, the magazine is a collaboration of advertisers, writers, photographers and staff members.
A copy of the magazine can be requested by filling out the request form on this website. It is also available at a number of locations throughout Cornwall, including the Cornwall Civic Complex, City Hall and at the TC Media offices at 29 Second Street East.