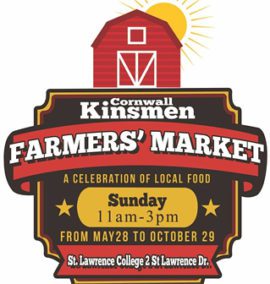 New Farmers' Market Opens at St. Lawrence College on May 28th
May 25, 2017
Cornwall Ontario – Local foodies will soon have something to celebrate!
The new Cornwall Kinsmen Farmers' Market (CKFM) is scheduled to open on Sunday, May 28th from 11:00am to 3:00pm at the St. Lawrence College Campus in Cornwall.   With an impressive lineup fresh produce, meats, honey, maple syrup, bread and baked goods, gluten free, preserves, fermented products, and crafts, this market will be the best place to find all your local products during the summer and autumn months.
"We saw the need within Cornwall and surrounding counties to create a space for local farmers and artisans to share their products and help promote healthy living, education, and community volunteer opportunities for students." Explains John Racine, Vice-President for the Cornwall Kinsmen and Board Member of the CKFM.
The new market is being managed by members of the Cornwall Kinsmen, Wilde Rose Organic Farm, and Lambros Quality Products, and hosted in partnership with the St. Lawrence College.
"We were thrilled when the market organizers agreed to setup on our campus" says Deb Stava, Dean of St. Lawrence College. "This initiative aligns perfectly with our new strategic plans to support further education and entrepreneurship in our local food and agricultural sectors."
In addition to traditional farmers' market vendors, there will be a free "Community Table" available for local charities and organizations to promote their services and events, a variety of outdoor children's activities, live music, and demonstrations by artists.  Community groups, musicians, and artists looking to attend the market are invited contact organizers for details.
The CKFM has also been made possible through partnerships with All Things Food Community Food Network, Foodland Ontario, and Farmers' Markets Ontario.
"We have been overwhelmed by the community's support and excitement for the new market" says Diana Freeman, Market Manager and owner of Wild Rose Organic. "Our provincial and local partners have really helped us get everything ready in time for the start date."
The Cornwall Kinsmen Farmers' Market will run every Sunday from May 28th – October 29th, with an official launch party scheduled on June 11th.
For more information, please visit the market on Facebook:
Categorised in: Business