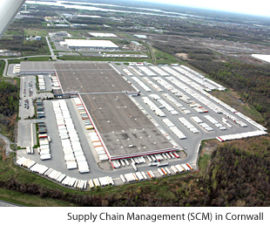 New High Velocity Distribution Center for SCM Cornwall
December 18, 2013
Cornwall Ontario – As Walmart continues to grow their network across Canada, so too does SCM.
SCM's massive distribution centre in the Cornwall Business Park will soon be home to a new High Velocity Distribution Center (HVDC). The HVDC will supply Walmart with their ambient grocery (non chilled, non frozen) and their high velocity products (paper towels, toilet paper, water, baby food, etc).
The HVDC will be a business within a business and will exist within the current SCM building.
At some point in the next few years, the HVDC is expected to outgrow the building and will move to a standalone operation.
"It is likely that this expansion will create additional employment opportunities," said Mark Boileau, Manager of Cornwall Economic Development. "This is great news for the long term sustainability of SCM in Cornwall."
HVDC positions  will require forklift certification.  Company officials have stated that these positions will be sourced both internally and externally.
"Cornwall is well positioned to meet the future needs of Walmart and SCM," said Mr. Boileau. "We have just brought online another 260 acres of development lands in the Cornwall Business Park and have plans to expand the road network to accommodate new growth."
Cornwall's newest DC is expected to open in late Spring, 2014, likely April or May.
About SCM
Supply Chain Management (SCM) is Cornwall's largest private sector employer. It operates a regional distribution centre for Walmart Canada in the Cornwall Business Park that measures 1.4 million sq.ft.. The company employs 900 people in Cornwall.
About the Cornwall Business Park
The Cornwall Business Park is approximately 1500 acres in size and is home to Cornwall's largest private sector employers. Land is available for $30,000 an acre. Available services in the Business Park include municipal water, sanitary sewers, electrical power, natural gas, and access to high speed telecommunication services. Access to Highway 401 is available via Interchange 796 (Boundary Road) and Interchange 792 (McConnell Avenue).