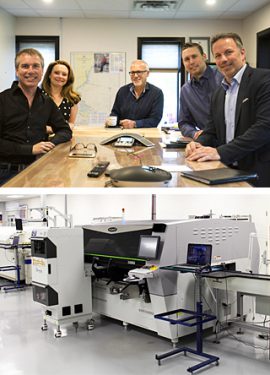 New Investment and Growth for SigmaPoint Technologies
December 14, 2017
Cornwall Ontario – SigmaPoint is once again reinvesting in its Cornwall manufacturing headquarters.
An investment of over $1 million in new equipment was made in 2017, primarily in two new machines:  a new nitrogen oven system that will improve the quality of solder joints for electronics circuit board, and a new industrial thermal chamber that will allow advanced environmental stress screening.
Both investments reflect the company's commitment to advance new product introduction and speed-up the prototyping process for its customers.  This strategy has aided SigmaPoint in winning new business, starting with their first military government crown contract.
The company is also leading a wave known as "reshoring" a term used to describe the return of manufacturing to North America. Leading the way in this regard is Kontron Canada, who have decided to transfer one of their production lines from China over to SigmaPoint as a means to reduce freight costs, decrease lead time and improve overall flexibility.
"Working with SigmaPoint allows us to optimize the supply chain, reduce transit time and implement a "just in time" approach, which our customers will undoubtedly benefit from," says Steve Séguin, VP of Operations with Kontron Canada.
SigmaPoint was recently profiled in three influential publications, the April issue of BOSS Magazine, the July issue of Business Review Canada and the September issue of EP&T Magazine.
All three articles focus on the reshoring opportunities that SigmaPoint provides.
"Every customer has a large amount of waste that gets built into their process," says Leah Slaughter, Vice President of Supply Chain at SigmaPoint Technologies. "Offshoring means paying a lower labor rate, but at SigmaPoint, we eliminate waste and bring costs down."
"In an industry where it seems like everybody is pre-programmed to go to China, we can do it all right here in Cornwall, Canada, with exceptional quality and with very agile and flexible strategies."
In 2016, SigmaPoint established a satellite location at Catalyst 137 to allow the company to offer quick prototyping and manufacturing services to companies in the Kitchener/Waterloo area.
To support its growth and expanding markets, SigmaPoint has adopted a new branding strategy, complete with new logo and revamped website along with beefed up social media and business development strategies.
About SigmaPoint Technologies
SigmaPoint Technologies is an Electronic Manufacturing Services (EMS) partner supplying end-to-end assembly services for intricate electronic products within the computer, telecommunications, defence, alternative energy, medical, industrial, and transportation markets. The company is headquartered in a state-of-the-art manufacturing building in the Cornwall Business Park.
Categorised in: Business