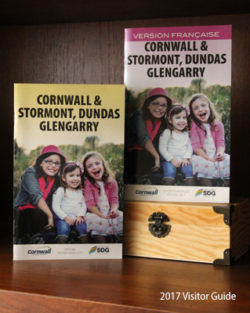 New Look and Format to 2017 Visitor Guide
March 24, 2017
Cornwall Ontario – The 2017 Visitor Guide is now available to help visitors find their way in Cornwall and Stormont Dundas and Glengarry (SDG).
The 2017 Visitor Guide has a new look and format this year. The book is smaller and easier to carry, using a digest format that is popular with many communities. Also new this year is additional content along with maps of the City and region.
"The new guide offers some great information along with some fantastic photos that really showcase our communities," says Linda Wilson, Tourism Co-ordinator for the City of Cornwall. "We want people to be excited about coming to our region, and help them discover some of our best attractions."
The 2017 Guide includes a calendar of events which lists over 50 festivals, fairs and other special events in addition to providing a listing of area hotels, motels, bed & breakfasts and campgrounds.
The Guide also includes information on attractions, shopping, dining and various activities that can be enjoyed year round.
More than 40,000 copies of the Visitor Guide will be distributed this year, representing an increase of 25% in production. A French version is also available. The guide will be available at brochure racks throughout the region and beyond, including at all Ontario Travel Centres. Local hotels will also have the guide in each guest room.
"Whether you want to relax or gain a new experience, there is something for everyone to enjoy all year, says Shauna Baggs, SDG Tourism Coordinator. The Visitor Guide is a great tool to start planning your vacation!"
An online version of the Guide will also be available.
The 2017 Visitor Guide was produced by TC media, and designed by Colleen Parette. It is a co-operative project between the City of Cornwall and the United Counties of Stormont Dundas and Glengarry.
"We are happy to see so many local companies see the value in marketing their goods and services to area visitors," says Rick Shaver, General Manager, TC Media Cornwall Market. "The 2017 Visitor Guide is a great complement to other publications that service visitors, including the Cornwall and Regional Map and the popular Cornwall Living magazine."
You can request a copy of the 2017 Visitor Guide via the Request Info page on this website.
Categorised in: Business