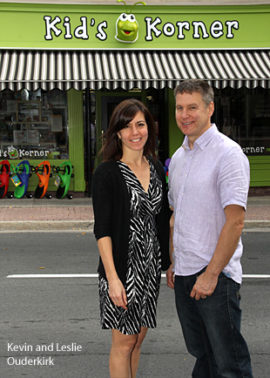 New Look to Kids Korner Drawing Rave Reviews
September 29, 2014
Cornwall Ontario – Cornwall's downtown is a little bit brighter these days following improvements to the area's favourite toy store, Kid's Korner.
The iconic retailer has a bright new green face with matching awning and a whimsical sign featuring the store's new mascot, a caterpillar.
Kid's Korner is owned by Kevin and Leslie Ouderkirk and is housed in a two storey-brick building on Pitt Street. The couple knew that they would have to make sure that the improvements were respectful of the heritage nature of the building.
"Pitt Street has really come alive with new stores and businesses, and we wanted to be sure to preserve the 'Main Street' feel of our building," says Kevin.  "At the same time, we are a toy store, and it was important to add a little bit of fun into the design."
The Ouderkirks turned to local master signmaker Noella Cotnam and Sign-It Signs to come up with a unique store marquee.
"The caterpillar is a fun character with a friendly green face and large eyes. The 3D nature of the sign makes the character come alive and it was a lot of fun to create," says Noella Cotnam. "It's very nice to work with people that have such a positive vision."
For other improvements, the Ouderkirks turned to Ray-Jans Construction to make significant improvements to the building's 78 year-old façade.  Work included replacing the large second story windows, upgrading the large awning and installing new exterior lighting.  Work is completed just as the Ouderkirks are getting ready for busy fall shopping season.
"New stock is arriving daily and our shelves are overflowing," says Leslie.  "It is never the wrong time to buy a toy!"
The revitalization of Kid's Korner was supported by the City of Cornwall's Heart of the City Community Improvement Plan which has been established to assist property owners revitalize properties within the City's core.
"The transformation of Kid's Korner looks amazing, and is the latest success story in our façade improvement program," said Councillor Denis Carr, Chair of the Cornwall Planning Programs Evaluation Committee. "Revitalized commercial properties will help attract new residents and new investment to the Downtown and Le Village Business districts."
About Kid's Korner
Kid's Korner is located at 141 Pitt Street in Downtown Cornwall. The store is open 7 days a week during the Christmas shopping season. You can reach the store at 613 938-6457 and online via social media:
You can learn more about the City of Cornwall's Community Improvement Plan here.