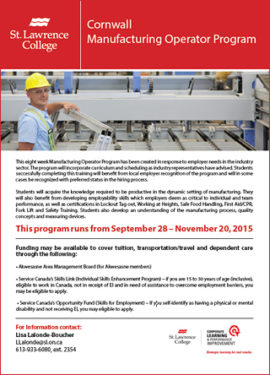 New Manufacturing Operator Program at St. Lawrence College
August 26, 2015
Cornwall Ontario – St. Lawrence College has launched a new program that will be of interest to anybody looking to begin a career in manufacturing.
The Manufacturing Operator Program is an 8-week course that has been created in response to employer needs in the industry sector. The program will incorporate curriculum and scheduling that has been developed with the assistance of local industry representatives.
"St. Lawrence College is committed to workforce development in our communities," says Charlie Mignault, Director of Business Development for St. Lawrence College. "We understand in order for manufacturers to expand or to move to our community we need a skilled workforce. Our economy is poised for expansion as economic conditions in the US and a lower Canadian dollar will play a positive role in underpinning growth in the near term. One of the biggest challenges we have is the ability to align the skills and abilities of young people coming into the workforce with the needs of employers – developing job ready people. The Manufacturing Operator Program addresses this challenge head on."
The Manufacturing Operator Program runs from September 28 – November 20, 2015 at the Cornwall Campus.
Students successfully completing this training will benefit from local employer recognition of the program and will in some cases be recognized with preferred status in the hiring process.
Students will acquire the knowledge required to be productive in the dynamic setting of manufacturing. They will also benefit from developing employability skills which employers deem as critical to individual and team performance, as well as certifications in Lockout Tag out, Working at Heights, Safe Food Handling, First Aid/CPR, Fork Lift and Safety Training.
Students also develop an understanding of the manufacturing process, quality concepts and measuring devices.
Funding may be available to cover tuition, transportation/travel and dependent care through the following:
Service Canada's Skills Link (Individual Skills Enhancement Program) – if you are 15 to 30 years of age (inclusive), eligible to work in Canada, not in receipt of EI and in need of assistance to overcome employment barriers, you may be eligible to apply.
Service Canada's Opportunity Fund (Skills for Employment) – If you self-identify as having a physical or mental disability and not receiving EI, you may eligible to apply.
Akwesasne Area Management Board (for Akwesasne members)
People looking for more info are invited to contact Lisa Lalonde-Boucher at LLalonde@sl.on.ca or by phoning 613-933-6080, ext. 2354.
About St. Lawrence College
Located along the shores of the St. Lawrence River, SLC has three campuses in Brockville, Cornwall and Kingston. St. Lawrence College boasts 6,500 full-time students from Canada, and more than 40 countries worldwide. The SLC college community includes 20,000 part-time students, 1,000 staff, and more than 70,000 alumni. It also serves more than 3,000 Employment Services clients annually. The college has recently invested in the development of Applied Research and the revitalization of its campuses.
St. Lawrence College is tops in the province when it comes to key performance indicators of a graduates success in finding employment. You can find out more information on the St. Lawrence College website:
St. Lawrence College is also featured in the new edition of Cornwall Living magazine. You can order your complimentary copy by clicking here.