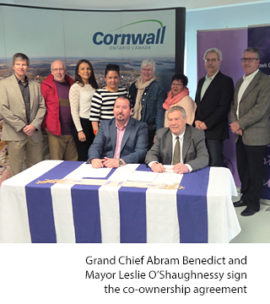 New Ownership Agreement for Cornwall Harbour Lands
May 4, 2016
Cornwall Ontario – Officials from the City of Cornwall and Mohawk Council of Akwesasne gathered at the A'nowara'ko:wa Arena on Cornwall Island on Tuesday morning to sign a co-owners' agreement for the joint operation of the Port of Cornwall lands.
The historic signing stems from an initiative by Cornwall and Akwesasne to take joint ownership of the Port of Cornwall.
Akwesasne Grand Chief Abram Benedict described it as a "momentous moment" that signals a new era of cooperation between Cornwall and Akwesasne.
"This will create opportunities for both communities for years to come," said Grand Chief Benedict.
Mayor Leslie O'Shaughnessy echoed the Grand Chief's comments, saying it's a proud moment for both communities.
"The potential is there for us to build something special," said Mayor O'Shaughnessy. "Let's move forward together."
A bilateral committee made up of staff and elected officials from the City and MCA has been negotiating with Transport Canada on the divestiture Port of Cornwall and the surrounding lands. These negotiations have been completed and co-ownership of the Port has been approved by the elected officials of both communities. This transfer is expected to be completed by the end of June.
At the same time, a joint public entity, titled the Cornwall Akwesasne Port Development Commission, is being established to oversee the management and long-term development of the Port under the umbrella of a co-owners' agreement.
The specific terms of the deal with Transport Canada cannot be released at this time due to a disclosure agreement however the details will be shared once the transfer is completed. To see a copy of the disclosure agreement, please click on the attachment below.
The agreement marks the culmination of numerous meetings and negotiation sessions involving officials from the City, Akwesasne and the Federal Government over the past two years. Consultants have been engaged in conducting significant analysis of the Port lands.
Additional details, including copies of the agreement, can be found on www.Cornwall.ca
Categorised in: Business