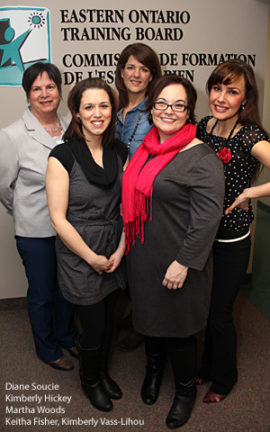 New Skills Program Looking For Participants
April 9, 2014
Cornwall Ontario – A new program is looking at adding skills to the local workforce, which hopefully will in turn lead to increased prosperity for its participants.
The Eastern Ontario Training Board will be delivering a Kitchen Helper Program to address skill requirements of at-risk youth. The initiative is part of the Government of Ontario's Ministry of Economic Development, Trade and Employment's Youth Skills Connection Program.
Successful candidates will be provided with the Basic In-school Cook Apprenticeship (Ontario) curriculum. In addition, participants will obtain a series of certificates valued by employers, such as the certified National Food Service (Safe Food Handling) Program, Smart Serve andWorkplace Hazardous Materials Information System (WHMIS), to name a few. Participants will then have the opportunity to test their newly acquired knowledge and skills and further their experience by participating in a 6 week on-the-job placement.
The program will be managed by the Training Board's Kimberly Vass-Lihou. Well-known local chef Keitha Fisher has been brought on as the lead instructor. Life skills coaching will be provided by Kimberly Hickey.
Three separate intakes will be conducted in Cornwall, Hawkesbury and Alexandria offering training to 12 at-risk youth per intake. Training costs will be covered by the program for eligible trainees.
Program schedule:
CORNWALL: May 12th, 2014 – August 29th, 2014
HAWKESBURY: November 3rd, 2014 – February 20th, 2015
ALEXANDRIA: April 27 2015 – August 13th, 2015
All programs will be followed by a 6 week on-the-job placement.
Candidate Requirements
Suitable candidates must be:
Unemployed (for at least 1 year)
Facing employment barriers such as language barriers, disability, newcomer status, conflict with the law, lack of work experience, skills or education, etc.
Between the ages of 18-25
Motivated and available to attend class 5 days a week, 5 hours a day for 16 weeks and then participate in a 6 week on-the-job placement
Spaces are limited and the deadline for applications for the Cornwall intake is April 25, 2014; interviewswill follow.
About the Youth Skills Connections Program
The Youth Skills Connections program is part of Ontario's Youth Jobs Strategy, which is creating employment opportunities for about 30,000 youth, while promoting innovation and entrepreneurship.
About the Eastern Ontario Training Board
The Eastern Ontario Training Board (EOTB) was established to play a leading role in labour force development. It undertakes a number of projects throughout the year, and publishes the TOP report on local labour force issues. More info can be found on the EOTB website: http://www.eotb-cfeo.on.ca/