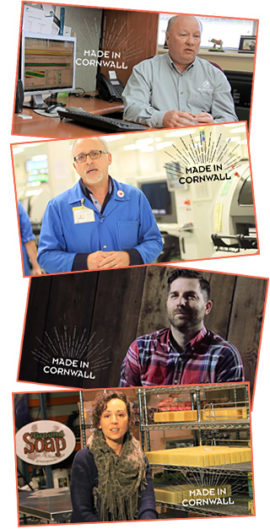 New Video Series Profiles Things Made in Cornwall
June 5, 2015
Cornwall Ontario – Manufacturing is alive in well in Cornwall, and is profiled in "Made in Cornwall", a new series of videos that highlight several Cornwall manufacturers.
Each video profiles a different company and explores what they make, who it is made for and why the company chose Cornwall.  The videos are approximately 3 minutes in length and are available on the ChooseCornwall YouTube channel:
"The goal of the video series is to highlight the unique capabilities of each company, and the collective advantages that Cornwall offers as a manufacturing location, "says Mark Boileau, Manager of Cornwall Economic Development. "It is our hope that the videos will help entice other manufacturers to take a closer look at our community, and consider investing here.
The first two Made in Cornwall episodes feature electronic manufacturer SigmaPoint and urban farmers Smart Greens. The next two videos feature Busitech, a local software development company and Ground Soap, a manufacturer of organic soap and skincare products. Future videos will include plastics manufacturer Laminacorr.
"This video is an excellent portrayal of SigmaPoint and our culture," says Wendy Pilon, Business Development Manager with SigmaPoint. "We are honored to participate in the Made in Cornwall video series and look forward to the positive feedback it will deliver."
Made in Cornwall episodes are being filmed and edited by local videographers in town. Cornwall Economic Development plans to shoot more videos in the series later this year, with videographers used on a rotating basis.
The first six videos were supported with funding from the Eastern Ontario Development Program, thanks to assistance from Cornwall & the Counties Community Futures Development Corporation.
About Cornwall Economic Development
Cornwall Economic Development's primary goal is to assist new and existing manufacturing and commercial businesses locate or expand in the City. The office provides detailed and current information to companies wanting to make informed decisions on site selection.
About Cornwall & The Counties Community Futures Development Corporation
Cornwall & The Counties Community Futures Development Corporation is a catalyst, a leader and a partner for a sustainable and growing economy that builds on all of the assets that Cornwall and SDG has to offer. It administers local applications to the Eastern Ontario Development Program.