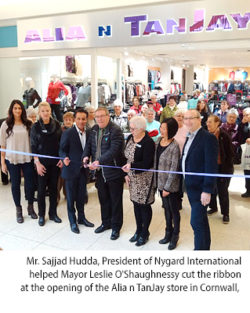 Nygard Opens New Store at Cornwall Square
November 18, 2016
Cornwall Ontario – The retail footprint in Downtown Cornwall has expanded with the arrival of Alia n TanJay at Cornwall Square.
Executives of Nygard Retail joined with community leaders on Tuesday to celebrate the grand opening of the company's 157th Alia n TanJay store in Canada.
Nygard Retail President Sajjad Hudda said the company has been eyeing the Cornwall market for some time now. The arrival of the Cornwall location allows the company to expand its footprint in Eastern Ontario.
"We made sure we grabbed the opportunity," said Mr. Hudda.
Mr. Hudda said Cornwall's demographics work well with the store's concept and shoppers will now be able to enjoy a new offering close to home.
"We thought we'd bring the concept to the good folks in Cornwall," he added.
The new store, located on the first floor of Cornwall Square, is home to 8 full and part-time staff.
Mayor Leslie O'Shaughnessy was on hand to cut the ribbon and bring greetings from the City of Cornwall.
"This is another example of the exciting investments we are seeing in the retail sector," said Mayor O'Shaughnessy. "These investments are creating jobs and adding to the overall quality of life we enjoy in Cornwall."
About Alia n TanJay
Alia n TanJay is part of Nygard International, one of North America's largest women's fashion houses, dedicated to helping women look and feel their best. The store features moderately priced, brand name fashions from Canadian designer Peter Nygard.
About Cornwall Square
Cornwall Square comprises more than 250,000 square feet, and currently counts both Shoppers Drug Mart and Sears among its tenant roster. As at June 30, 2016, the property had occupancy of 77.4%, a level that will rise to 82.8% as a result of this transaction (based on Q2 2016 reporting results). The planned Dollarama store will occupy approximately 15,000 square feet of previously vacant space.
Categorised in: Business