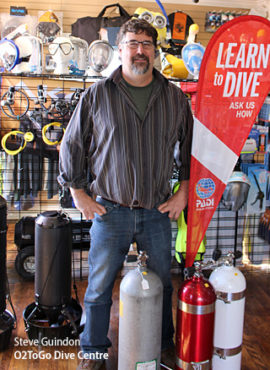 O2ToGo Helping Divers Explore the St. Lawrence River
July 20, 2018
Cornwall Ontario –  The St. Lawrence River is celebrated as one of the world's best fresh-water shipwreck diving destinations.  Whether you are thinking of diving for the first time or you are a seasoned diver looking for an adventure, O2ToGo Dive Centre should be your first stop.
O2ToGo is a full service scuba diving shop offering a full range of diving products, from snorkels, to wet and dry suits, masks and fins – for sale or rent. If you have your own equipment, you can get your oxygen tanks refilled and your equipment inspected and serviced at their Pitt Street location.
For years owner Steve Guindon worked side-by-side with Ron MacDonald building Ron's Scuba Shop up to be Cornwall's go-to dive centre. In 2015, Ron decided to pass the baton over to Steve, closing down Ron's Scuba shop. When one business closed another rose to took its place, and so O2ToGo began.
In the three years since they've opened their doors, O2ToGo have established themselves as the leader of diver knowledge in the region. They offer a number of diving courses with qualified instructors, including learn to dive introductory courses to more advanced instruction such as the rescue diver course and the enriched air (nitrox) diving course.
An increasing number of people opt to take the introductory diving course before heading on vacation so that they have the option of diving if the opportunity presents itself. O2ToGo also organizes trips to various diving hot spots around the world, such as Honduras and Cuba.
O2ToGo plays a big role in supporting the Seaway Valley Divers, the most prominent dive community in the area. The club offers members the chance to save money on charters, social gatherings and a sense of security as safety is a priority during all club-organized dives.
O2ToGo is also involved in annual clean-up efforts that help remove debris and hazards from the St. Lawrence River.
Diving in the St. Lawrence River
The St. Lawrence River has been the main shipping route between the Great Lakes and the Atlantic Ocean for centuries, and you can see evidence of that history beneath the surface of the river. From shipwrecks to artifacts and more, there are dozens of points of interest that are popular with divers. When the Seaway and Power Dam where constructed in the late 1950s, the resulting flooding of small towns and villages (known locally at the Lost Villages) helped add a new dimension to the underwater world.
Visibility in the river is excellent. Divers can generally see 50 to 60 feet in front them most of the year, and 60 – 100 feet in the fall. For those visiting the area or looking for more information on local dive sites, Cornwall Tourism can provide you with resources and guidance on their website.
Connecting with O2ToGo Dive Centre
O2ToGo Dive Centre is located at 3054 Pitt Street near Cornwall Centre Road. You can reach them by phone at 613-936-2864 or online at: