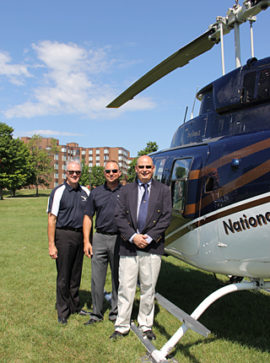 OAS and NAV CANADA Collaborate to Establish World-Class Pilot Training Centre in Cornwall
July 27, 2016
Cornwall, Ontario – The friendly skies over Cornwall are about to get a little bit busier.
Ottawa Aviation Services has entered into a Memorandum of Understanding with NAV CANADA utilizing the NAV CENTRE that paves the way for a professional pilot training campus to be established in Cornwall, Ontario.
"We are very pleased to have entered into this agreement with the NAV CANADA," said Cedric Paillard, CEO, Ottawa Aviation Services. "We are working together to establish a campus in Cornwall that will support the training of hundreds of domestic and international students."
A pilot training campus in Cornwall will seek to address the large global market for fixed wing and helicopter pilot training, including the rapidly growing market in China. According to the International Civil Aviation Organization, the Asia Pacific region, Europe, Latin America and Africa combined face a shortage of over 23,000 pilots annually between 2010 and 2030.
The NAV CENTRE is the largest facility of its kind in Eastern Ontario, offering world-class education facilities and technology, air traffic control simulation capabilities, accommodation and recreational facilities. At this location OAS will be able to offer domestic and international students an exceptional flight training and life experience in Cornwall and in Canada.
"We are excited about this opportunity with OAS to establish world-class pilot training programs at the NAV CENTRE," said Kim Coe-Turner, General Manager, NAV CENTRE. " It is a perfect fit for NAV CENTRE and augments what NAV CANADA offers internationally".
"We look forward to working with NAV CANADA, the NAV CENTRE, the City of Cornwall and surrounding communities to place the Cornwall area on the map of professional pilot training destinations," added Mr. Paillard.
OAS also announced that the Company has reached agreements to manage a multi-year program to prepare and train 100 Chinese helicopter pilots, in partnership with National Helicopters Inc.
OAS welcomed the first class of 20 students to the NAV CENTRE on July 18, 2016. Initial program activities have been developed to prepare these students for flight training that is scheduled to begin in September 2016.
The operation and management of flight training programs at an OAS satellite campus in Cornwall is subject to obtaining certain regulatory approvals.
For more information on Ottawa Aviation Services, visit:
Categorised in: Business