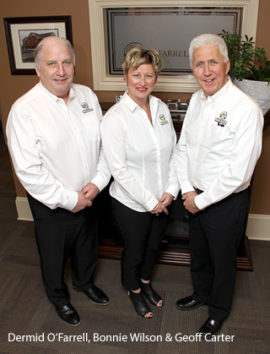 O'Farrell Financial Services Expands to Cornwall
May 9, 2016
Cornwall Ontario – A company with a long history of business in Eastern Ontario now has a Cornwall address.
O'Farrell Financial Services has opened a new office in Downtown Cornwall, at the busy intersection of Second and Sydney.
"We are excited to be in Cornwall, and especially in Downtown Cornwall," says company Managing Partner Dermid O'Farrell. "We have been made to feel very welcome in the short time we have been open, and we look forward to connecting with more people in the city."
O'Farrell Financial Services provide financial and estate planning services. Some of the many products they offer are life insurance, critical illness/disability insurance, RSPs, GICs, mutual funds and segregated funds. The company also offers services tailored to businesses such as succession planning, group RRSPs and group benefits plans.
"Our goal is to help our clients live the life they want today, and secure the legacy they want for tomorrow," says Mr. O'Farrell.
Dermid and Donna Lee O'Farrell started O'Farrell Financial Services in their Kemptville home in 1997.  As the business grew, they moved to rented premises in 2002, eventually building their own office building in 2008. Three years later they expanded to Brockville and in 2013 they opened a third office in Winchester.
"We have a philosophy of being close to our customers," says Dermid O'Farrell. "Being nearby is not only convenient, but it also allows us to give back to the community that we serve."
To this end, one of the first organizations that Mr. O'Farrell joined was the Cornwall and Area Chamber of Commerce. He and his team have since met a number of other business and community leaders to offer their assistance.
With the expansion to Cornwall, the company now has 26 employees which include 8 Financial Security Advisors and an Employee Benefits department. A staff of 5 people work out of the Cornwall office.
"We have family roots in the area, so Cornwall was an inevitable choice for our expansion," said Mr. O'Farrell. "Cornwall's economy is growing and we are pleased to provide our high standard of service to local residents."
The Cornwall office is located at 108 Second Street East in the Knox City Centre. The office is open 5 days a week and can be reached at 613 935-6254. You can also visit them online:
Categorised in: Business