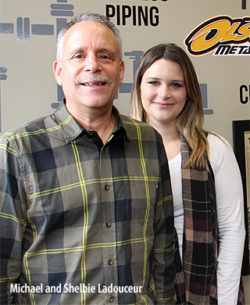 Olsonfab Metal Fabrication Adds Second Facility in Cornwall
December 20, 2017
Cornwall Ontario – Exciting things are happening at Olsonfab Metal Fabrication and its sister company, Oscar Ladouceur & Son.
Olsonfab has acquired a second facility in Cornwall to accommodate new demands for their products and services. The 54,000 square foot facility is located at 235 Saunders Drive, and renovations are currently underway. The company has purchased more equipment, including CNC machinery, overhead cranes along with everything you need for an advanced welding facility.
"We distribute and ship our products to clients across the world," says Michael Ladoueur, President of Olsonfab. "This new facility, together with our expertise and continuing investment in technology, will help us to complete even the most complex jobs with precision."
Olsonfab Metal Fabrication is considered an industry leader specializing in custom metal fabrication, welding, structural steel, millwright/rigging, 3D designs and installations. Oscar Ladouceur & Son is a mechanical contracting company specializing in the commercial and industrial sector. Both companies are currently based in offices located on Balmoral Avenue.
The Ladouceur family have been part of the Cornwall business community since Oscar Ladouceur first opened up shop in his basement in 1948. In 1954, Oscar acquired his first shop on 7th Street East and within a decade business had required a move to much larger premises on Balmoral Avenue.
In 1998 Roger & Michael Ladouceur (son and grandson to Oscar) opened up Olsonfab, a custom metal fabrication and structural division. This was soon followed with a noise and vibration abatement company in 2001 called NVC Olsonfab.
Today, all three companies are thriving, resulting in the need for extra space.  The new building was acquired in the summer of 2017 and will be operated as a second facility.
Plans are on track to make the new location fully operational by spring 2018.
"We are looking to add to our award winning team of dedicated designers, experienced fabricators and conscientious project managers as we ramp up the new facility," notes Mr. Ladouceur. "We are excited to open this new chapter in our company history."
You can learn more about the company online:
Categorised in: Business