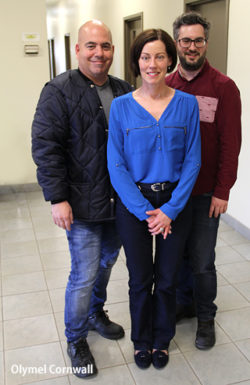 Olymel Adding 80 Positions to Cornwall Plant
April 21, 2017
Cornwall, Ontario – Olymel is looking to fill 80 positions at its bacon and ham processing plant in Cornwall.
"We continue to increase our production which also means we need more workers," says Francois Bessette, Cornwall Plant Manager.
Olymel is looking to hire 40 students in addition to 40 full-time general labourers. There are new openings in production,  including day and evening shifts.
New employees are offered on-site training in the areas of equipment operation, production practices, and health & safety.  Wages and benefits are competitive for the region, with a number of incentive programs that can increase earnings.
"Although the immediate need is for production workers, Olymel is always looking to add technical expertise to its workforce," says Heather Jiujias, Human Resources Manager.  "We are happy to speak to anybody who is looking to work in a state of the art food processing facility. Our maintenance team includes operating engineers, refrigeration technicians, electricians, electromechanical technicians, millwrights, welders, machinists and others"
Job Fair
Olymel is holding a job fair to meet job seekers on Saturday, May 6th, 2017 from 10:00am to 2:00pm. The job fair will be held at the Cornwall plant located on 2330 Industrial Park Drive in the Cornwall Business Park. Interested applicants are encourage to bring a resume, two pieces of photo identification and employment references for a guaranteed interview.
A link to current Olymel job postings can be found in the "Work in Cornwall" section of this website.
In 2013, Olymel added a continuous smokehouse and other technologies in a 70,000 sq.ft. expansion to its facility, which is located in the Cornwall Business Park. Employment has steadily grown since then.  Once the recruitment period is completed, the Cornwall plant will employ more than 400 people.
About Olymel
Olymel is Canada's leader in the production, processing and distribution of pork and poultry meats. The company, which celebrated its 25th anniversary in 2016, has made feeding the world its mission, which it pursues passionately with products of impeccable quality. The company employs close to 11,000 persons, including more than 8,000 in Quebec, and has large facilities in Ontario, Alberta, New Brunswick and Saskatchewan. Olymel exports nearly a third of its total sales, mainly to the United States, Japan and Australia, as well as over 65 other countries. Its annual sales are on the order of 3 billion dollars.
The company markets its products mainly under the Olymel, Lafleur and Flamingo brands. For additional information on the company, including available career opportunities, visit:
Categorised in: Business