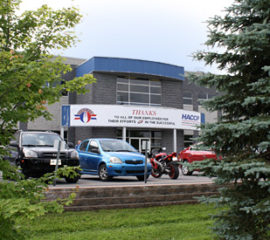 Olymel Featured On Invest In Ontario Website
January 9, 2014
Cornwall Ontario – Olymel's recent $37 million expansion of it's food processing plant in Cornwall Business Park has been profiled on the Invest in Ontario website. In an article entitled Olymel Thinks Big in Ontario, Canada the company's decision to invest i the Province is examined.
Olymel's investment in Cornwall is one of the largest food processing sector investments in Canada in recent years and resulted in the doubling of size of its state-of-the-art facility.
You can read the article in its entirety below:
Olymel Thinks Big in Ontario, Canada
Big ideas have always driven success at Olymel, one of the biggest players in Canada's pork and poultry meat processing and distribution industry. So when the Quebec-based company decided to expand its bacon manufacturing and slicing operation to include other processed meats, it seemed only logical to advance this plan with another big idea: build and grow in Ontario, Canada.
The challenge
Faced with stiff competition from U.S. bacon producers and a strong Canadian dollar that was hampering exports, Olymel began making plans to diversify its bacon plant operations to include other types of processed meats. To ensure the success of this plan, Olymel needed to choose a location that would provide optimal access to key markets and skilled food processing workers.
Background
From its origins as a hog production cooperative in the 1920s, Olymel has grown into a Canadian leader in slaughtering, processing and distributing pork and poultry meats, with close to 10,000 employees and facilities in Quebec, Ontario, Alberta, Saskatchewan and New Brunswick. The company, which achieved $2.3 billion in sales in 2012, exports almost half of its production to more than 60 countries, including primary markets in the United States, Japan and Australia.
In May 2012, Olymel's bacon plant in Princeville, Quebec, was destroyed by a fire. As part of the process to determine whether or not to rebuild the plant, Olymel examined market conditions and saw a need to diversify its operations beyond the highly competitive bacon sector.
The company already had two other bacon processing plants in operation – one in Cornwall, Ontario and another in Drummondville, Quebec. It now needed to choose a site for this newly conceived diversified facility.
The solution
In June 2013, Olymel announced its plan to expand its Cornwall, Ontario facility. The expansion comprises a $37-million investment that will see the addition of 70,000 square feet to the existing space, and installation of a continuous smokehouse and a biological reactor to increase the plant's wastewater treatment and purification capacity. The expansion will allow Olymel to combine bacon production with other operations such as making picnic ham, smoked pork and jowls.
"Our goal is to optimize our Cornwall plant," says Richard Vigneault, a spokesperson for Olymel. "By modernizing it with high-tech equipment and increasing the capacity of the plant, we'll have the flexibility to produce other processed meats to meet the demands of the market."
A strategic location that eases access to market
Ontario's strategic location in the heart of the $17-trillion North American marketplace and its extensive transportation infrastructure were critical factors in Olymel's decision to increase its investment in Cornwall. About $1.2-trillion worth of goods are transported each year on Ontario's highways, and the province has more than 250,000 kilometres of roads and highways, including the major 400-series highways. Ontario also has 14 border crossings into the U.S., in addition to rail border crossings, ports and airports.
For Olymel, which also operates a poultry processing plant and head office in Brampton, Ontario, these advantages translate to a greater ability to bring its products to market faster and more cost effectively, says Vigneault.
A vast pool of skilled workers
To run its expanded operation, Olymel needs to hire 50 new employees, bringing the total number of workers at the Cornwall plant to more than 320 by the start of 2014. Vigneault says it's easy to find skilled and experienced workers in Ontario, where more than 95,000 workers are employed in food processing and where manufacturing sectors workers boast average on-the-job experience of more than 10 years.
"We have very good manpower in Cornwall and Brampton," says Vigneault. "We know we won't have any difficulties finding skilled workers for our expanded plant."
Why Ontario?
Ontario's strategic location and extensive transportation network brings Olymel closer to its key markets, while the province's wealth of skilled workers ensures Olymel has the people it needs to run its expanded Cornwall facility.
Invest in Ontario is the Province's Economic Development initiative led by the Ministry of Economic Development Trade and Employment. You can learn more at InvestinOntario.com
Related Articles:
http://www.choosecornwall.ca/eng/news/647/57/Olymel-Announces-Major-Expansion-of-Cornwall-Plant/