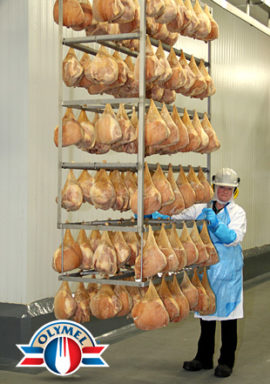 Olymel Holding Job Fair To Build Its Workforce In Cornwall
November 7, 2014
Cornwall, Ontario – Olymel is looking to fill positions at its food processing plant in Cornwall, Ontario.
The company will hold a job fair on Saturday, November 15th from 10:00 am to 3:00 pm at their plant located at 2330 Industrial Park Drive in the Cornwall Business Park.
A link to these job postings can be found in the "Work in Cornwall" section of this website.
"Our plant is running very well and we are getting new business because of it," says Heather Jiujias, Human Resources Manager with Olymel. "We have some openings for skilled trades such as operating engineers, millwrights and electricians, as well as openings for production workers."
Olymel recently expanded their state-of-the art meat processing facility by adding 70,000 sq.ft. of production space and installing new machinery. The plant now produces bacon for consumer and restaurant use, as well as picnic hams.
The $37 million expansion is one of the largest investments in Canada's food processing sector in recent years.
The food processing industry in Canada is becoming more competitive and those efforts are likely to bear fruit in the form of jobs, according to a recent study by Western University's Ivey Business School.
"The new footprint for globally competitive manufacturing tends to be larger plants and probably located close to workforces as well as markets and transportation corridors," says the study's co-author David Sparling.
Cornwall's strategic location in the heart of the $17-trillion North American marketplace and its extensive transportation infrastructure were critical factors in Olymel's decision to increase its investment in Cornwall.
The food processing industry produces more than 70 per cent of the food Canadians buy and, with revenue of more than $88 billion in 2011, it's the second-largest Canadian manufacturing industry and Canada's largest manufacturing employer.
About Olymel
Olymel is a Canadian leader in the processing and distribution of pork and poultry meats, with 23 facilities in Quebec, Ontario, Alberta, Saskatchewan and New Brunswick. The company employs near 10,000 people and exports nearly half its production, mainly to the United States, Japan and Australia, as well as some sixty other countries. The company markets its products mainly under the Olymel, Lafleur and Flamingo brands. Olymel sees innovation as a key factor in its success, and attaches tremendous importance to improving its products. Proud of its products and its own brands, Olymel also puts its expertise and vast manufacturing capabilities to work for private labels.
Olymel was featured in the 2014 Cornwall Living magazine. Use the Contact Us page to ask for your complimentary copy.