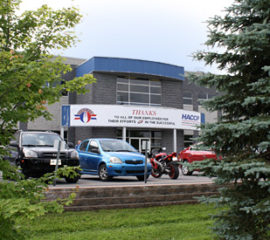 Olymel Recruiting for Cornwall Plant
November 14, 2013
Cornwall, Ontario – Olymel is looking to fill 40 positions at its food processing plant in Cornwall, Ontario.
The company recently invested $37 million in the expansion of its facilities, which added a continuous smokehouse and enabled the Cornwall plant to expand its capacity to produce not only bacon but also a wider variety of processed pork products. The expansion added 70,000 square feet to the plant, which is located in the Cornwall Business Park.
The company is now looking to recruit production workers as it ramps up its workforce to engage the new production capabilities. A link to these job postings can be found in the "Work in Cornwall" section of this website.
Once the recruitment period is completed, the Cornwall plant will employ more than 320 persons.
Earlier this year Olymel President and CEO Réjean Nadeau commented on the expansion of the Olymel plant in Cornwall.
"This investment is part of a plan to reorganize the company's operations in the processed pork sector, and is a vote of confidence in the future of the Cornwall plant. Olymel also plans to renew its production with a plan to specialize its facilities by product type. In a context of fierce competition from U.S. products in the bacon sector, Olymel has decided to change the focus of some of its facilities, including the Cornwall plant, by combining bacon production operations with other processed meat operations. By diversifying production of the Cornwall plant, we seek to increase our ability to meet our customers' varied needs and market a highly competitive product line," noted Mr. Nadeau.
This significant investment in the Cornwall plant, previously specialized in the slicing and production of pre-cooked bacon, allows greater flexibility in the production of a wider variety of products. The plant may produce items such as smoked products like pork ham, picnic hams and jowls.
Under federal jurisdiction, the operations of the Cornwall facility are supervised by the Canadian Food Inspection Agency (CFIA).
"The Olymel plant in Cornwall enjoys an advantageous geographical position close to major transportation axises and between larger centres such as Montreal, Toronto and Ottawa. The expansion of our facilities and broadening of our operations through a more diversified product line represent an additional factor in optimizing our operations so we can better serve the Canadian and U.S. markets," added plant manager Martin Croteau.
About Olymel l.p.
Olymel l.p. is a Canadian leader in the slaughtering, processing and distribution of pork and poultry meats, with facilities in Quebec, Ontario, Alberta, Saskatchewan and New Brunswick. The company employs near 10,000 persons and exports nearly half its production, mainly to the United States, Japan and Australia, as well as some sixty other countries. Its sales were over $2.3 billion last year, with a slaughtering and processing capacity of 160,000 hogs and1.7 million birds a week. The company markets its products mainly under the Olymel, Lafleur and Flamingo brands.
You can view available career opportunities on the Olymel website: