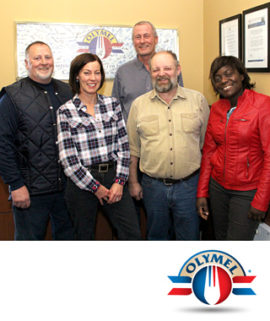 Olymel to Expand Operations in Cornwall
January 28, 2016
Cornwall Ontario – Olymel is looking to fill 45 positions at its processing facility in the Cornwall Business Park. The company will be holding a job fair at its plant on Saturday February 6th from 10:00 am to 2:00 pm.
"We are looking for dependable and motivated individuals to fill permanent full-time positions to meet our increased productivity needs," says Heather Jiujias, Human Resources Manager for Olymel Cornwall.  "If you are capable of working in a fast-paced, refrigerated environment we look forward to meeting you."
There will be a variety of positions available, including general labour and 3rd class operating engineering jobs. All positions are full-time.
You can find links to the job descriptions on the Work in Cornwall page.
"We have improved operational efficiencies in our bacon and ham production operations over the past year," says Jay Willyard, Cornwall Plant Manager.  "Thanks to increased market demand and improved efficiency in our plant, we are further expanding operations and therefore need to grow our team."
Olymel makes bacon and picnic hams in Cornwall. The company currently has a local workforce of 300. In 2014, Olymel invested $37 million in the Cornwall plant, doubling its size and adding a continuous smokehouse and other state-of-the-art equipment. The investment garnered the company the Economic Impact Award from the Cornwall Chamber of Commerce.
Cornwall's strategic location in the heart of the $17-trillion North American marketplace and its extensive transportation infrastructure were critical factors in Olymel's decision to increase its investment in Cornwall. The food processing industry produces more than 70 per cent of the food Canadians buy and is Canada's largest manufacturing employer. The Canadian pork industry is world-renowned for its high quality products and superior safety standards.
About Olymel
Olymel is a Canadian leader in the processing and distribution of pork and poultry meats, with 23 facilities in Quebec, Ontario, Alberta, Saskatchewan and New Brunswick. The company employs more than 10,000 people and exports nearly half its production, mainly to the United States, Japan and Australia, as well as some 65 other countries. The company markets its products mainly under the Olymel, Lafleur and Flamingo brands. Olymel sees innovation as a key factor in its success, and attaches tremendous importance to improving its products. Proud of its products and its own brands, Olymel also puts its expertise and vast manufacturing capabilities to work for private labels.
Categorised in: Business