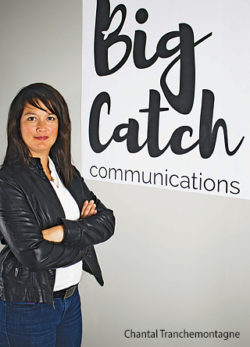 On The Hook with Big Catch Communications
November 7, 2016
Cornwall Ontario – Businesses looking to step up their marketing game have a new ally – Big Catch Communications.
Big Catch is a content and communications agency that offers a full range of communication and marketing services from strategy development to execution.
"We specialize in building custom content that performs and provides experiences through digital, traditional and social media," says Chantal Tranchemontagne, President of Big Catch.
Ms. Tranchemontagne draws upon 17+ years of working for some of the most recognizable brands in Canada. She started her career with Air Canada's enRoute magazine and went on to launch and lead print and digital projects for Bell, Magazines Canada and Reader's Digest. Her work has also helped showcase brands like Fairmont Hotels & Resorts, Mercedes-Benz, Jean Coutu, Canada Post and the Canadian Tourism Commission.
Along with her experience in working with large firms, Ms. Tranchemontagne has also worked with smaller companies and organizations to achieve their communications goals.
"Success in today's digital landscape is determined by a company's ability to engage with their audience in an authentic and meaningful way. You don't necessarily need the resources of a big corporation to make that happen," she says. "But you might need an ally who knows how to make your brand stand out. That's where Big Catch Communications comes in."
Ms. Tranchemontagne was born and raised in Cornwall, attended St. Lawrence High School, left to complete her university studies and worked for 20 years across the country and abroad. Now back in her hometown, she is eager to make a difference in the local business community.
"I'm excited to join the new generation of entrepreneurs emerging in Cornwall who love to work collaboratively," says Ms. Tranchemontagne. "Our collective talent and experiences means great opportunities to showcase the local businesses that make our community thrive."
You can connect with Chantal and Big Catch Communications at:
Categorised in: Business