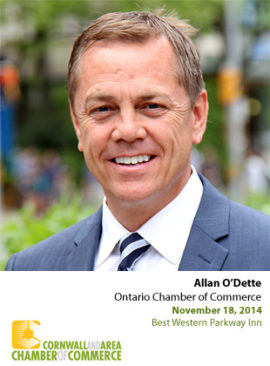 Ontario Chamber Of Commerce President To Visit Cornwall
November 10, 2014
Cornwall Ontario – The President is visiting Cornwall.
Allan O'Dette, President and CEO of the Ontario Chamber of Commerce (OCC), will be a special guest speaker during a luncheon on Tuesday, November 18 at the Best Western Parkway Inn & Conference Centre.
The event will be hosted by the Cornwall and Area Chamber of Commerce, in partnership with the South Stormont Chamber of Commerce.
"The Cornwall Chamber was recently awarded the prestigious OCC Annual General Meeting & Convention and I'm pleased to have Mr. O'Dette join us as an important part of our many activities leading up to the event itself," states Kevin Hargreaves, Chamber President. "I'm also pleased to have the South Stormont Chamber partner with us for the luncheon."
Mr. O'Dette heads up the OCC, the voice of 60,000 businesses from across Ontario that collectively employ over two million people and produce nearly 17 percent of Ontario's GDP. Mr. O'Dette's remarks will be of particular interest to Cornwall's local business sector as he focuses on the challenges and opportunities facing them.
Prior to joining the OCC, O'Dette was a senior executive in the bio-pharmaceutical industry. He has served on numerous public and not-for-profit boards, and was awarded the Queen Elizabeth II Diamond Jubilee Medal for his contributions to his community and his philanthropic and volunteer activities. He holds a Bachelor of Arts degree from Trent University and an MBA from the Rotman School of Business at the University of Toronto.
Earlier this year, the Chamber submitted a strong proposal to host the OCC's 2015 Annual General Meeting & Convention as part of its 125th anniversary year celebrations. The OCC was impressed with the  proposal and as a result, next May will see over 200 leading business professionals from across Ontario visit Cornwall and get a first-hand look at our City With a World of Possibilities.
About the Cornwall and Area Chamber of Commerce
The Cornwall and Area Chamber of Commerce is the unified voice of the region's business community speaking towards growth, leadership and innovation. With direction from the elected board of directors, the Chamber looks to continuously progress the community through political advocacy, knowledge-based development and innovative opportunities.
The Chamber has close to 700 members.  For more information, please click on the following links: