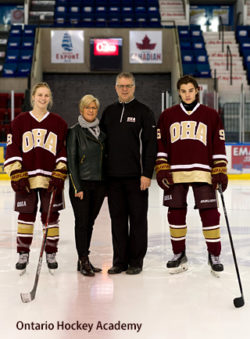 Ontario Hockey Academy Celebrates 10 Years of Excellence
December 18, 2017
Cornwall Ontario – The Ontario Hockey Academy is celebrating 10 years of combining quality education with world class athletic program.
Home base for the Academy is a new renovated campus on Vincent Massey that includes 26 dorm style rooms, cafeteria, and a hockey specific off-ice training facility.
OHA teams practice at the Benson Centre and the Civic Complex, in order to prepare for an extensive game schedule that provides athletes with exposure to a number of scouting opportunities.
"We pride ourselves on providing a supportive environment for players in their teen years to combine their love of hockey and their desire to secure that all-important post-secondary education," says Giles Lacelle, who along with wife Kim runs the Academy along with a staff of over 20 professionals. "Our students are our family, and our mission is to help them succeed in their dreams and aspirations."
Enrolment at the Academy is currently 135 students, enough to fill out the rosters of 5 boys teams and 3 girls teams. Students come from across North America and the world – in all, 21 countries are represented.
The Academy is registered with the Ontario Ministry of Education which means that all graduates receive a Ontario Secondary School Diploma.
"It is a tough but rewarding academics program that prepares the student for university," says Jesse Ferguson, OHA Principal . "Private school students are 50% more likely than public students to complete a bachelor's or advanced degree."
Students have gone on to further their athletic careers – and education – at a number of top ranked schools, including St. Mary's, University of British Columbia, Princeton and Harvard.
There are 7 OHA alumni who will be playing in the upcoming Olympics in South Korea. A 10th Year Reunion is being planned for June 2018.
About the Ontario Hockey Academy
The Ontario Hockey Academy is a High Performance Academic-Athletic private school dedicated to providing ambitious boys and girls the very best in academics along with elite hockey. The Academy is located at 1541 Vincent Massey in Cornwall. More information can be found online:
Categorised in: Business