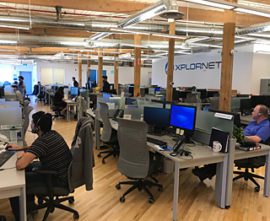 Ontario Investing in Growth at Xplornet
April 23, 2018
Cornwall Ontario – Xplornet Communication is receiving some assistance from the Ontario government to grow its operations in Cornwall.
The company has received $235,700 from the Eastern Ontario Development Fund to support the company's investment of over $2 million in its Cornwall facility. The project will create 130 new jobs and help to retain existing positions. It is expected to be completed by January 2022.
"We thank the Province of Ontario for this important initiative which is creating jobs and spurring innovation throughout Eastern Ontario," said James Maunder, Vice President, Public Affairs, and Xplornet Communications.  "At Xplornet we have a simple mission: we want rural Canadians, wherever they choose to live, to be able to connect to what matters.   This support has allowed us to exceed our original hiring target at our Cornwall facility, creating almost 150 high quality jobs since 2016.  We look forward to continuing to invest in the area."
Xplornet Communications provides broadband internet access, applications and accessories to residential and commercial customers in rural markets across Canada. In 2017, Xplornet offically opened its regional office in Cornwall's historic Cotton Mill district. The office is staffed with over 120 people and features modern work stations equipped with the latest in communications technology.
"Investing in companies that create good paying, local jobs is important to maintaining healthy and vibrant communities," said Jeff Leal, Minister Responsible for Small Business. "Our continued support for regional economic development ensures that we keep companies in their communities and attract investments that help grow the local economy. Investing in our communities, families, and businesses is important for a strong and healthy Ontario."
The Xplornet investment in Eastern Ontario extends beyond Cornwall, as the company is a key partner in the Eastern Ontario Regional Network.
"In just a few short months, Xplornet has established itself as a major private sector employer in Cornwall, and an important service provider in Eastern Ontario," said Mayor Leslie O'Shaughnessy. "Connectivity is an important factor in the success of any business – large or small."
About Xplornet Communications Inc.
Xplornet Communications is Canada's leading rural broadband provider. The company has overcome the challenges of Canada's vast geography through deployment ofCanada's first national 4G network, which leverages both fixed-wireless towers on the ground and next-generation satellites in space. Xplornet was the recipient of the 2017 Economic Impact of the Year Award from the Cornwall Chamber of Commerce.
About the Eastern Ontario Development Fund
The Eastern Ontario Development Fund is helping to create jobs and diversify the economy by encouraging regional businesses to pursue innovation and new markets. The fund covers up to 15 per cent of eligible project costs, with the recipient company funding the remainder from its own resources.
Other Cornwall based companies have previously received assistance from EODF.
Since 2013, the Eastern Ontario Development Fund has committed support of over $55 million, helping to create and retain over 10,000 jobs and leveraging over $570 million in total investments.
Ontario is accepting applications for the Eastern Ontario Development Fund from qualified businesses that are growing and creating jobs. Sectors eligible for the fund include advanced manufacturing, food processing, life sciences, information and communications technology, tourism and cultural industries.
More info:
Categorised in: Business